"The Secret in Their Eyes" and "The City of Your Final Destination"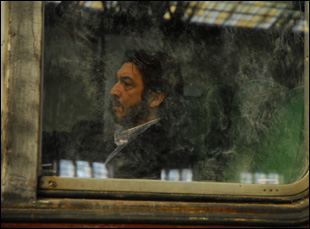 Posted by Bilge Ebiri on
It's no surprise to learn that Argentine director Juan José Campanella, whose "The Secret in Their Eyes" shocked the world by snatching the Best Foreign Language Film Oscar right out from under the expectant noses of Michael Haneke and Jacques Audiard earlier this year, has done some directing for "Law & Order: Special Victims Unit," since his latest initially plays like The Greatest Episode of "Law & Order" Ever.
That maybe sounds like a criticism, but it's not meant to be. Campanella's story begins as a crime drama, then gradually shifts into a fascinating meditation on love, memory, justice, and obsession, while incorporating elements of political thriller along the way. It feels conventional, to be sure, but it leaves you in a startlingly different place by the time it gets to its heartbreakingly dark finale.
The policier side of the narrative coin is carried out by Benjamín Esposito (Ricardo Darín) and Pablo Sandoval (Guillermo Francella), a wisecracking pair of court clerks who flaunt procedure and even some serious legal obligations to try and prove that the brutal rape and death of a young woman during the mid '70s was committed by a mysterious young man from the dead woman's past. Along the way, the two wannabe investigators find themselves alternately impeded and encouraged by the ravishing young new judge Irene Menéndez Hastings (Soledad Villamil), an American educated up-and-comer on whom both men develop instant crushes.
Campanella frames these events, and the surprisingly brutal developments that ensue, with the contemporary story of a now-retired Benjamin visiting Irene at the office to ask for her help in writing his memoir of the case. The framing device is not a gimmick, however. The attraction between the two is still palpable, and we sense that there's a decades-wide chasm of unspoken thoughts between them. As the modern-day story gradually takes hold, "The Secret in Their Eyes" transforms from a grisly crime thriller to a melodrama of unspoken passion, as if "Zodiac" had been hijacked by "The Remains of the Day."
Such melding together of pop genres will no doubt put some viewers off — but Campanella's got his heart in it, and it shows. No matter what type of story he's telling, the director likes to return to the ways that memory frames and influences human behavior, and vice-versa — his 2001 comedy "Son of the Bride" was a touching rumination on midlife crises, Alzheimer's and the effort to keep love alive over many, many years.
Campanella seems to have an innate understanding of the way we relive moments from the past differently, depending on the circumstances of the present. It's a deceptively complicated juggling act — to fuse two seemingly unrelated and seemingly incomplete stories together in a way that each helps unlock the other — and he pulls it off masterfully.