Review: "The Lottery," where winning really is everything.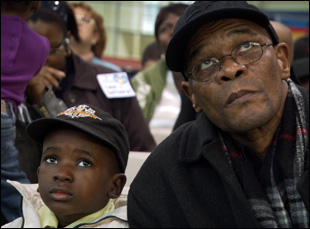 Posted by Matt Singer on
Reviewed at the 2010 Tribeca Film Festival.
If there's one political issue that should be simple, it's education. Everyone is for education; everyone agrees children deserve the best education possible. But trying to determine just how to give children that education is a sore subject, and that's where the problems begin. The troubling documentary "The Lottery" shows how just how many sides to a one-sided issue there can be.
The titular contest in question happens every year in Harlem (and, I imagine, other areas like it around the country). Charter schools, like the one in the film named Harlem Success Academy, offer children in their area the opportunity for a better education and boast a higher literacy rate and better test scores than than the public schools in the same area.
Their technique, as one person describes it, flips the conventional educational model on its head: instead of a variable amount of achievement in a constant amount of time, the school makes time a variable (by extending both the school day and the school year) in order to make achievement the constant. The results, as bragged about many times throughout the film by Harlem Success founder Eva Moskowitz, speak for themselves.
However, space is limited, so the school holds a lottery every year to randomly select its incoming kindergarten class. If your name is chosen, you're on your way to a great primary education, which then increases your chances to get into a better middle school, and high school, and college, and so on. If your name isn't chosen, your chances at all of that decrease dramatically, all before you ever learn to read and write.
Shockingly, Harlem Success holds their lottery in a gymnasium where candidates come and watch the results announced live. If you're lucky enough to be called, you come onto the stage receive a certificate (a literal and figurative golden ticket) and celebrate with the Harlem Success faculty. If you don't get picked, you have to sit in the audience and watch your dreams die as other people gloat and celebrate.
Imagine having to find out if you got into your dream college in public, then multiply the potential anguish by a thousand times because these are five-year-old children getting their hopes crushed, in a system that is totally random and not based on merit. It's pure insanity. Why rub the unlucky kids' noses in the success of the winners? Why not just mail acceptance letters to the students who get in?
"The Lottery" follows four families with young children entered in this year's lottery. Three live in one-parent homes. One has a father in prison; another has a mother living in Africa. Despite their circumstances though, all four kids seem bright, sweet, and full of potential, and that may be both the greatest tragedy and most powerful element of this film: watching it, we know that some or all of these children won't win this lottery and the rest of their lives will be profoundly affected by it.
Director Madeleine Sackler contextualizes the contest by interviewing experts on education, including NYC Department of Education Chancellor Joel Klein and Newark Mayor Cory Booker, and takes us inside the roiling community meetings where Harlem residents argue passionately for and against charter schools. Most agree the system is deeply troubled.
So how to fix it? Sackler sides with the charter schools and with Moskowitz, who is portrayed as a crusading reformer, and comes down most heavily against the powerful United Federation of Teachers, the public school teachers' union in New York City (which, full disclosure, my wife is a member of).
I don't agree with all of Sackler's arguments — my wife taught in Harlem for several years, and I don't know that a charter school is any more well-equipped to handle many of the problems she faced than a public school — but she captures the passion and heartache of her four main subjects with empathy and clarity.
You may or may not agree that the public education system in this country is broken, but by the end of "The Lottery" there's a very good chance your heart will be.
"The Lottery" will have a limited run on June 8th.
[Photos: "The Lottery," Variance Films, 2010]