Review: "The Last Play at Shea," Billy Joel and the Mets.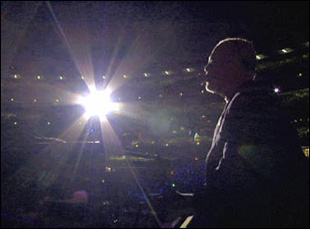 Posted by Matt Singer on
Reviewed at the 2010 Tribeca Film Festival.
Billy Joel was the perfect choice to play the last rock concert at Shea Stadium because, as the entertaining though slight documentary "The Last Play at Shea" makes clear, Billy Joel is essentially the New York Mets of rock stars. Joel and the Mets, Shea's primary tenants for 44 years, have a remarkable amount in common and eerily parallel timelines: Joel's father, for example, left his family the same month the Dodgers abandoned Brooklyn for Los Angeles, paving the way for the creation of the Mets.
The film's explicit comparisons are mostly temporal, but careful viewers of this slick doc will sense a deeper kinship between the two: memorable and at times miraculous success, debilitating and at times miraculous failures, bad luck, worse decisions and some serious inferiority complexes. The Mets, who live in the shadow of their crosstown rivals the Yankees, have fewer championships (two) than Billy Joel has failed marriages (three) in roughly the same span of time. Many of Joel's biggest hits — "Piano Man," "Movin' Out," "My Life," "It's Still Rock & Roll to Me," "We Didn't Start the Fire" — are about frustration, disappointment and dissatisfaction, the primary emotions felt by any Mets fan during almost any given baseball season.
Though the film takes its name from Joel's two-night, venue-closing stand at Shea in the summer of 2008, it's not really a concert film. Instead, it cleverly weaves highlights from Joel's shows and the history of the Mets. A mostly nostalgic portrait with a warm voiceover provided by Alec Baldwin and talking heads ranging from Mets greats like Tom Seaver to Joel's friends like Christie Brinkley, it focuses on the major triumphs of both the team and the artist, never dwelling for very long on the negative side of things.
As a historical document, its treatment of both its subjects is superficial. Seemingly important words and phrases like "Casey Stengel," "Jerry Koosman," "The Stranger," "The Nylon Curtain," are never uttered. Joel's third wife Katie Lee appears briefly, but her relationship to Joel is never explained. The Mets' two World Series defeats (including a soul-crushing loss to the Yankees) don't come up at all and Joel's continuing, frustrating retirement from pop songwriting since 1993's "River of Dreams" is barely mentioned, except for an on-stage acknowledgement that he sold out Shea without putting out an album in 15 years. Realistically, there's enough material here for two different documentaries and shrinking them both into one 95-minute movie comes at a cost of some depth.
What is here, though, moves along briskly with fun anecdotes from Joel and the former Mets; I particularly enjoyed learning about Shea groundskeeper Pete Flynn, who tended to the stadium's Kentucky Bluegrass for every one of its 44 seasons and who, according to Mike Piazza, would watch the occasional promotional events where children were allowed to run on his field boiling with rage at their intrusion. Non-Joel fans might chide director Paul Crowder's on-the-nose soundtrack selections — his choice, for instance, to score Joel's interview about his traitorous ex-brother-in-law and manager to the soundtrack of "Honesty" — but they accurately reflect the directness of Joel's music, which has always been more about storytelling than poetry. If Crowder's technique is blunt, it's never more so than his subject's.
"The Last Play at Shea" strikes a celebratory tone throughout, not surprisingly, given that one of the two primary producers, Steve Cohen, worked as Joel's live production designer and director for 36 years. (According to Cohen's statement in the press notes, he developed the film on orders from Joel.) As enjoyable as "The Last Play at Shea" is, there are enough moments of richer insight nibbling at its edges to make you wonder what it would look like if had it been shepherded by folks who weren't longtime employees of its subject. Its most fascinating segments are the ones that reveal, often indirectly, the darkness in Joel's life. This is a man who loves music who has been repeatedly hurt by the music business, who's sold more than 100 million albums but who seemingly can't stand the way he looks, repeatedly putting down his physical appearance and describing himself at one point as an "unbelievably not good-looking guy."
Back when it was still around, people talked about Shea the same way; Mets star Darryl Strawberry even calls it "a dump" in the film. They tore that wonderful dump down to make room for the Mets new home, Citi Field. If Shea and Billy are as linked as "The Last Play at Shea" argues they are, that makes you wonder what he will do next.
"The Last Play at Shea" does not yet have U.S. distribution.
[Photos: "The Last Play at Shea," Spitfire Productions, 2010]