"The City of Your Final Destination," and the music of Jorge Drexler.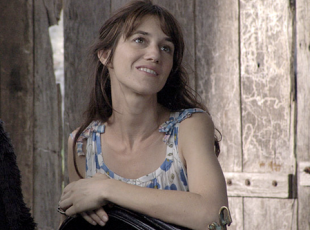 Posted by Brandon Kim on
Though I am no scholar of their productions, and only somewhat fondly recall sitting still through "A Room with a View" in 1985, it seems apparent that "The City of Your Final Destination" is vintage Merchant Ivory – even with dear Ismail Merchant now passed on.
[Charlotte Gainsbourg in "The City of Your Final Destination," Screen Media Films]

Bilge Ebiri, writing for IFC, said of the filmmaking duo, "what distinguishes their best work is an almost clinical focus on the rituals and behaviors of small communities facing imminent demise — be they the slowly evaporating families of the English upper class ("Howards End"), or the French aristocracy on the eve of the Revolution ("Jefferson in Paris"). In his own way, Ivory does for his often well-heeled subjects what John Ford did for his Western pioneers — reimagining and reanimating these often-lost worlds through their elaborate tribal rituals."
I can sit still for that, but what excites me, aside from the details to which James Ivory pays such exquisite attention, is the cast, and the music. Anthony Hopkins delivers lines like, "He was my brother, I knew him better than anyone, I knew him when we were still tearing the wings off butterflies," as if they were incantations to which you must but succumb. A lesser actor could easily pass that along, but Hopkins forces it on you, like a good hard tickle – it's not really all that pleasant, but you chuckle. I think the way he says butterflies helps.
Charlotte Gainsbourg, Omar Metwally, Laura Linney, and Hiroyuki Sanada star as reluctant heirs of a celebrated South American novelist who resist and/or encourage a young American-Iranian academic's attempts to to write an authorized biography of the deceased writer.
The music is by Uruguayan (incidentally, also the country where the film is set) guitarist and composer, Jorge Drexler. He won an Oscar for best song, called "Al Otro Lado Del Río," for 2004's "The Motorcycle Diaries." The music in "The City of Your Final Destination" is no less wonderful. I've actually sat half the day with the film's website open in the background to keep listening to it. Check it out.
The film opened in NYC on April 16th to enormous ticket sales (the highest measured per screen) and will expand to additional markets this Friday, April 23.