The A-Team, 80's TV theme song reborn.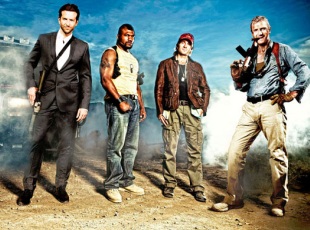 Posted by Brandon Kim on
Anyone who watched TV in the '80's likely recognizes "The A-Team" theme song when they hear it. If they were kids at the time, they probably know it by heart. Maybe that only applies to boys, but I for one knew it so well I could whistle, hum or da da dum it from start to finish. It was so catchy, so much more rock and roll than other theme songs. Good for accompanying a day running outside playing with toy (but totally realistic) guns or for breaking out the G.I.Joes with the crew after school.
Composers Mike Post and Pete Carpenter put that rollicking patriotic jam together somewhere between scoring "Riptide," one of the lesser theme songs of the decade and "Magnum, P.I.," clearly one of the better.
The bigscreen "The A-Team" due out in June has Alan Silvestri on board as composer which seems an odd choice given today's trends. Silvestri's best known scores, all those 1980's classics from "Back to the Future" to "Romancing the Stone," as warm and cozy as they are, sound a bit like elevator music now. But Silvestri who once composed the weepie "Forest Gump" theme, also scored some action flicks (i.e. auditory bullshit) like "Van Helsing" and "G.I. Joe: The Rise of Cobra" more recently.
First snippets of the score sound serviceable with little bits of the old time Post/Carpenter theme sprinkled in. Trailer music isn't always representative of the film score, but in this case it most likely is.The latest one runs for two and a half minutes, and is indeed scored. Just over half way (at about 1:30) the obligatory hardguy rock takes over and ruins it, but there's also a slick little nod to the original when BA whistles it to himself. Cute.
Good to see the come-from-nowhere "District 9" star, Sharlto Copley in something new, seen here as 'Howling Mad' Murdock. Feast the original, one tough 80's TV intro: