Tax day, starring the Tea Party and Frank Capra.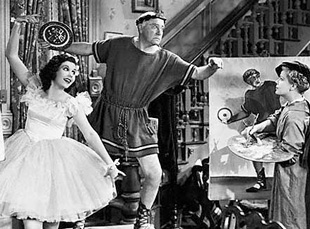 Posted by Vadim Rizov on
Happy day-after-April-15th! Having safely filed your taxes, you are now free to frequent bars and drown your sorrows. Of course, there are other ways to commemorate this day, as shown nationwide by many of the Tea Party's factions. "Taxed Enough Already," reads the unofficial acronym, and it doesn't really matter if taxes have been lowered — it's the thought that counts, especially if the thought is something like "keep your government hands off my Medicare."
Times like these are the only appropriate moment to think of "You Can't Take It With You," the worst film Frank Capra made (before his '50s decline, anyway). In an outstanding, still misunderstood and undervalued body of work, "You Can't Take It With You" stands out as the lone gargoyle. Forget "Harold and Maude" — if you want to find a movie that anticipated all the worst aspects of Sundance quirk, it would behoove you to sit down to the Best Picture of 1938. Glib where it's supposed to be funny, button-pushing where it should be deeply felt, it's hardly recognizable as the work of the man who could inject real emotions and pathos into even the most incoherent scenario.
Other Capra films, like "Mr. Deeds Goes To Town," "Meet John Doe" and especially "Mr. Smith Goes To Washington," have both called incoherently populist works that target institutional problems while offering no solutions. The point (per Ray Carney's excellent book "American Vision: The Films of Frank Capra") are the visionary energies and urges of the male heroes at the center, not the actual politics.
But that's very much not the point of "You Can't Take It With You," with its character of Grandpa Martin Vanderhof (played by Lionel Barrymore), a lovable old coot who lets whoever wants to follow their flighty impulses and desires (fireworks! mechanical dolls! ballet!) take up space and pursue them, no matter how impractical or unsafe.
Like all free spirits, Grandpa Vanderhof doesn't believe in paying the income tax. In the infuriating scene below, he plays rhetorical cat-and-mouse with a frustrated representative of the IRS, demanding to know what good his 22 years' owed back-taxes would do. The representative says they need warships, but crafty grandpa — three years before World War II — says we haven't used those since the Spanish-American War. Nor does Grandpa use the roads ever, and he certainly doesn't believe in Congress because, you know, Congress, haw haw. And as you watch it, you think: "These arguments, that don't make any sense, they could be part of the Tea Party platform, no problem." Taxed Enough Already! My viewing patience, that is.
[Photos: "You Can't Take It With You," Columbia Pictures, 1938]