SXSW 2010 IFC Crossroads Celebrity Photo Booth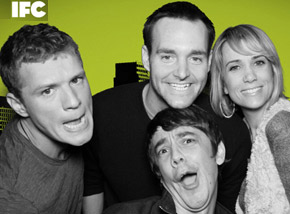 Posted by IFC on
The saying goes, "there's no place like home", but have you ever noticed that sometimes when you're on the road, you like to upgrade your surroundings a little? The IFC Crossroads house at SXSW 2010 was our own haven of Awesome in Austin. It was a place where you could re-charge (both yourself and your phone) while savoring some delicious refreshments and enjoying great entertainment offered in our live studio.
Just to make sure all of our guests had a souvenir to commemorate their visit to the IFC Crossroads House, we set a photo booth to capture those pictures worth a thousand words. And it seems like it was a good idea, because everyone seems to have taken advantage of it, from our celebrity guests from the SXSW Film Festival like the casts of "MacGruber", "Elektra Luxx"and "Cyrus", to the bands that rocked the house like The Walkmen, Jakob Dylan & Three Legs, The Black Angels, Neon Indian and many others.
Did you get a chance to stop by the IFC Crossroads House when you were in Austin? After looking through our celebrity gallery below, head on over to our Facebook page to find your photo, tag yourself and show your friends just how damn beautiful you are.
Enjoy the photos and we'll see you next year!
[Click the thumbnails to see the images full size.]