We need more squalor and misery in this comedy!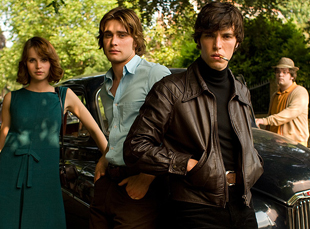 Posted by Vadim Rizov on
A side pleasure of subscribing to Sight & Sound, the fine monthly magazine put out by the British Film Institute, is that you get to read about the dozens of British films that never raise their heads this side of the Atlantic. Many of the reviews come with qualifiers about the movies' small budgets and smaller ambitions. The tone is generally optimistic but mildly disappointed.
One such film is "Cemetery Junction," the second directorial effort from "The Office" creator Ricky Gervais, who shares the credit with regular collaborator Stephen Merchant — it has yet to receive an American release date. And while "Cemetery Junction" was produced by Sony, and will almost certainly make it to theaters here eventually, David Cox's disparaging observations about the film in the Guardian inadvertently suggest reasons why so many other British films don't make it to the U.S., even without the handicap of subtitles that hamper most other foreign films.
The problem with "Cemetery Junction," writes Cox, is that Gervais and Merchant have grafted Hollywood elements — an uplifting "reach for the stars" arc, good-looking young actors — on top of '70s environments that don't match: "The dishy protagonists would look quite at home on one of the big screen's sunlit campuses; on the outskirts of Reading their allure is faintly embarrassing." He suggests the British don't want sunshine and reassurance: "We want to salivate over hospital closures, redundancies and uncollected rubbish."
Maybe that's why a crowd-pleaser like "The Damned United" didn't do very good business in America — not because it's a soccer story, but because middlebrow arthouse audiences aren't into "lovingly observed squalor" as a form of nostalgia. Imagine someone making a nostalgic movie about how wonderful urban blight in '70s Detroit was — it's well-nigh impossible.
Cox's speculations are tongue-in-cheek, but he's getting at (and embodying) a stereotype about the British — that they're proudly gloomy, taking self-deprecation and deprivation to pathological levels — and saying it's true. Surely there must be some truth for it to remain so virulently persistent. But it suggests those reams of British films never make it over here not because they're bad, but because they project modesty of expectations and take a certain gloomy pleasure in squalor — and when you're marketing an English-language movie in the U.S., where quirk and some kind of happy ending seem required, that's the last thing you want.
[Photos: "Cemetery Junction," Sony International Motion Picture Production Group, 2010; "The Damned United," Sony Pictures Classics, 2009]