Review: "sex & drugs & rock & roll," but the same old biopic story.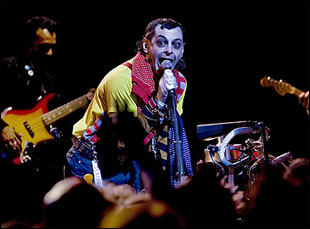 Posted by Matt Singer on
Reviewed at the 2010 Tribeca Film Festival.
Looking more like Uncle Fester from "The Addams Family" on a steady diet of NutriSystem and Rogaine than the man he's actually playing, Andy Serkis seems to be having a blast as '70s British music icon Ian Dury in the biopic "sex & drugs & rock & roll." If only the words I want to use to describe his performance — charismatic, compelling — also applied to the movie around him. Though Dury was an atypical rock star in a lot of ways — including a complicated relationship with his estranged wife (Olivia Williams) and troubled son ("Son of Rambow"'s Bill Milner) and a lifelong physical disability caused by a childhood bout of polio — "sex & drugs & rock & roll" is a pretty typical music biopic, from Serkis's impressive-but-showy lead performance to a flashback structure that lets its hero guide us back through their rise to stardom, struggles with drugs and/or alcohol, poor treatment by and of women, and the rocker's inevitable reemergence as a more centered and complete person. There's even time for a few complete musical numbers, with Serkis singing impressive vocals to backing tracks provided by Dury's old band, The Blockheads.
A few segments dare to think big — one particularly memorable one transforms Dury's drunken collapse in a pool into a full-on underwater concert from Dury and The Blockheads — but most of the film settles into a increasingly predictable rhythm of Dury getting fucked up, pissing off his loved ones and performing one of his hits. The big dilemma of a film like this is deciding what to include and what to leave out from a story that lasted decades in a film that lasts less than two hours. In this case, director Mat Whitecross decided to focus mostly on the soap opera of Dury's private life, particularly his refusal to divorce Williams' Betty for his girlfriend Denise (Naomie Harris), instead of providing more details about Dury's musical career or the scope of his cultural importance. Whitecross was Michael Winterbottom's collaborator on his recent documentaries like "The Road to Guantanamo" and "The Shock Doctrine," but if Winterbottom, director of the musical biopic classic "24 Hour Party People," gave Whitecross any advice about balancing the macro and micro viewpoints of an artist's life, it didn't help the finished product.
At one point in the film, Dury gives his son an action figure of the Incredible Hulk, and there are some similarities to be drawn between the rampaging comic book monster and the irrepressible, wild man rocker. But "sex & drugs & rock & roll" is more like the Hulk's alter ego, Bruce Banner: timid and academic. Serkis is good in the role, and I imagine Dury die-hards will enjoy the movie more than I did, getting a bigger kick out of seeing him bring their idol and his music back to life. Everyone else will leave the theater scratching their heads, wondering what made this emotional mess with the eccentric fashion sense so unique when his life on screen bears such a striking resemblance to others we've seen before.
"sex & drugs & rock & roll" is now available on VOD and will open in New York at the Tribeca Cinemas in New York on May 5th.
[Photos: "sex & drugs & rock & roll," Tribeca Film, 2010]