Did Woody Allen ruin romantic comedies?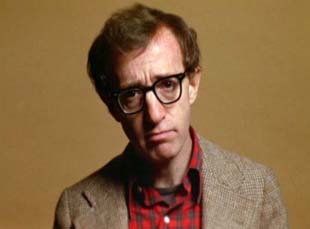 Posted by Vadim Rizov on
In a thoughtful appraisal better than "The Back-Up Plan" deserves, the New York Times' Manohla Dargis doesn't so much review the movie as the entire landscape of the contemporary romantic comedy, one of her favorite topics. She observes a decline from the days of witty banter to "speeches about feelings": "Freud might have hit Hollywood decades earlier, but Woody Allen and the generations of funnymen and women he inspired, have a lot to answer for."
On that note, it's fascinating to wonder about how "Annie Hall" might have lead to the mess we're in now. The rom coms of the '30s-'50s remain supremely watchable to both genders — you'd be a fool to label the Hepburn-Tracy movies "chick flicks." While the power imbalances and assumptions are now definitively of their time, they still awarded parity to both sides when it comes time to make the rhetorical case.
Something happened in the 1970s, the decade when the public discovered sex. (Nope, it wasn't the '60s: the '70s were when people had to reckon with what they'd learned.) Indeed, Woody Allen does have a lot to answer for: "Annie Hall" inverts the romantic comedy and reinvents it something born of disillusionment, a difficult movie to watch, acutely despairing as it is. '70s cinema is fraught with loveless, despairing sex — 1977, the year "Annie Hall" hit theaters, also brought us Diane Keaton in "Looking For Mr. Goodbar," in which she plays a schoolteacher who, for her pains in trawling the singles bars, ends up dead.
The effort to reconstitute movie romance is downright heroic if you look at it in a certain light — it had to be taken out of the realm of teen love, à la John Hughes, and restored to the world of adults. How else to explain Nora Ephron's transition from bitter chronicler of divorce in "Heartburn" to shameless huckster of enduring romance in "When Harry Met Sally," "Sleepless In Seattle" and beyond? It's almost admirable, even if the ensuing movies aren't — and, in the process, somehow got tagged as and made for women only, a lamentable shift.
The contemporary rom com is often an inadvertently angry thing, fighting for transcendent love (or at least a decent date) in a post-sexual lib, post-romance world, a fairly toxic combo. Jennifer Lopez didn't ask for all this — she's just fighting her way through it the best she can. We may return to banter someday; right now we'll have to settle for angry misunderstandings, obscenely expensive evenings out, and a wariness of being hurt that's unbelievable.
[Photos: "Annie Hall," MGM/UA Home Entertainment, 1977; "The Back-up Plan," CBS Films, 2010]