3D is not going to replace A-list actors.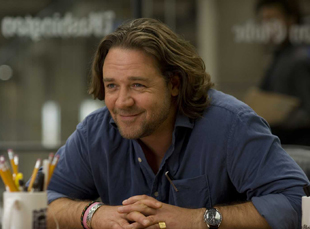 Posted by Vadim Rizov on
When it comes to discussing 3D, there are three main talking points. There's the ranting about the differences between cheap 3D/post-2D conversions (there's more dissection of that aspect of "Clash of the Titans" than actual reviews of the film). Then there's the discussions about how many 3D movies there are, how much money they're making and if they're here to stay. And, finally, there's the worrying over whether or not cheap spectacle will kill off story and actors.
The latest manifestation is the subject of a Patrick Goldstein think-piece in the LA Times. Goldstein wonders if 3D will make movie stars "obsolete," giving as evidence an anonymous studio executive who claims that a business split between under-$30 million specialty films and big tentpoles "essentially puts a tax on 2D dramas, romantic comedies and other projects, since they just won't project the same kind of box-office potential."
This is probably true, and it's another example of short-sighted thinking in a business already full of it. If, say, Sam Worthington is the new face of anonymous blockbuster stardom, that's perfectly fine. All the new 3D movies are inherently high-concept (gods and monsters! piranhas!), so they don't need major, expensive stars to succeed. But after one too many lousy spectacles, this will backfire, and then what?
The blockbusters of the last decade have studiously worked on eliminating the need for name actors, initially to balance out expensive effects (as with "Lord of the Rings"), then as standard operating procedure. The argument is that these tentpole films generally hit their financial goals, while recent flops like "State of Play," "Imagine That," "The Taking of Pelham 123" and so on prove that stardom's pull at the box office is dead — even though, say, Russell Crowe and Denzel Washington made $266 million with "American Gangster" a mere three years ago.
Most big stars have had off-and-on careers — think of Sylvester Stallone's multiple resurrections, Schwarzenegger's bounce back from "The Last Action Hero" to "Eraser," etc. But whatever! Stardom is dead! Oh, and Mike Myers is still getting paid ridiculous amounts of money to voice "Shrek," which is an animated movie that no little kid would possibly see only because of his involvement. And the newly rediscovered women's picture succeeds because of leads like Meryl Streep. But stardom is dead!
The problem with this kind of myopic thinking is that after the 3D thing shakes itself down — with all those projectors installed, it won't die — you'll still need something besides the promise of flying objects to sell a movie. Then you can make a movie like "Shutter Island," which succeeded solely because of the star-power of Scorsese and DiCaprio. Diversification is key, as in any business. It's remarkable how often Hollywood seems to forget that, and keeping different kinds of stars in the stable — your comedians, charismatic action stars, dramatic barn-stormers and so on — is key. This thinking, too, shall pass.
The real question: when's that 3D porn boom coming?
[Photos: "State of Play," Universal, 2009; "Piranha 3-D," Dimension Films, 2010]