Movie marketing in post-Obama America.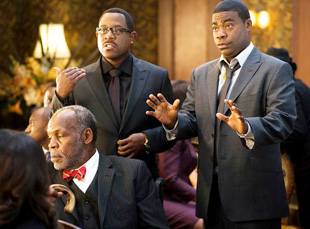 Posted by Vadim Rizov on
"Death at a Funeral," which opens tomorrow, does not appear to be bringing out the finest in post-Obama, "post-racial" language. In an odd article at the Los Angeles Times, John Horn fixates over the tracking numbers for the film, which predict a $20 million opening weekend, "with some appeal for non-black moviegoers, although not as much as Screen Gems had hoped."
The story tells us that "hiring LaBute was part of Screen Gems' effort to expand the "Death at a Funeral" audience," and — more revealingly — gives us a list of reasons why white people should want to show up: "In addition to being directed by a white man and costarring [James] Marsden, 'Death at a Funeral' also features Luke Wilson and Peter Dinklage (reprising his role from the first film)." Screen Gems President Clint Culpepper frets: ""The trailer killed with white audiences, and yet you have to ask yourself… why is the tracking reflecting what it is reflecting? We need to wind up [as a nation] where we have no black stories and no white stories. There are just stories."
Ah, yes, the "white people love Luke Wilson" factor: the levels of racial fretting must be off the charts if we're counting on a guy whose highest profile gigs lately have been in AT&T commercial to bring in audiences. The reminder — twice! — that LaBute is a white director is even weirder. No matter how many big studio films he makes — especially if those films are, say, "The Wicker Man" and "Lakeview Terrace" — he's never going to be a name-brand director to mass audiences. Only people who remember him from his breakout independent work (and theater geeks) will know that he's white. That's a bizarre justification, one I've never seen pulled before. Like, "Next Friday" was an "urban comedy" and it was directed by the lily-white Steve Carr; 2007's "Who's Your Caddy" was directed by the three-first-named white Don Michael Paul.
Last year's "Obsessed" — noted in the article as a crossover hit, with 30% of its audience being white — wasn't just directed by a white guy, but a British one no less (Steve Shill), information theater-goers no doubt carefully checked before purchasing their tickets. (You could argue that "Obsessed" — with its nasty little subtext of crazy white bitch vs. upper-middle-class black family, one surprisingly unexploited and silent in the movie — prospered because it called allegedly "post-racial" America on the nonsense of that wishful thinking.)
It's nice to fantasize about a post-racial America that patently isn't here in our national cultural life. It's another thing entirely to annex the self-righteous language of "no black or white stories, only stories" to, you know, a movie with diarrhea jokes and gay dwarf escorts. It seems unnecessarily grandiose. Wondering why white audiences won't come to a movie with a crossover star like Chris Rock? Maybe that's because he has a bad track record in film, and the rest of the cast isn't exactly crossover name-brand (as fine an actress as Loretta Devine is), and Peter Dinklage isn't a star, and movies with predominantly black casts tend to be marketed that way. Don't blame the audience; that's just precedent.
[Photos: "Death At A Funeral," Screen Gems, 2010; "Obsessed," Screen Gems, 2009]