Video premiere!: Quasi's "Repulsion"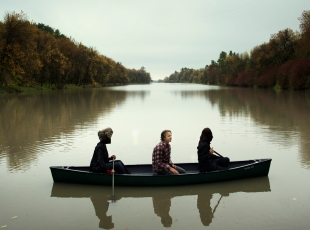 Posted by Brandon Kim on
If this song by Quasi sounds like it's been buried under a garage jacket and a dirty magazine since 1993, don't be alarmed, your instincts serve you well. The band are Portland old schoolers, formed in '93 by duo Sam Coomes & Janet Weiss (Sleater-Kinney) and joined more recently by bassist Joanna Bolme (Stephen Malkmus + The Jicks).
[Quasi in canoe. Photo by John Clark.]
After a bit of self releasing and then trying out a few record labels throughout the 90's they ended up on Touch & Go, and just found their way to Kill Rock Stars for the release of American Gong. Maybe you know all this already, but if not and you dig the gold soundz, this record is for you. If you could wear out mp3's I'd be worried for my copies.
See now this video for "Repulsion," track 1 of the record, out now on KRS/Domino. It was directed by Mike Donovan from Sic Alps. It reminds me of Acetone and Pavement. It's probably safe for work, hard to make out the naughty bits behind those pixels.
Quasi tour dates!
04.15 – St Paul, MN @ The Turf Club
04.16 – Madison, WI @ The Annex
04.17 – Detroit, MI @ Magic Stick
04.18 – Toronto, ON, Canada @ Horseshoe Tavern
04.19 – Montreal, QC, Canada @ Il Motore
04.20 – Cambridge, MA @ Middle East Downstairs
04.22 – New York, NY @ Bowery Ballroom
04.23 – Philadelphia, PA @ Johnny Brenda's
04.24 – Washington, DC @ The Black Cat
04.26 – Carrboro, NC @ Cat's Cradle
04.27 – Atlanta, GA @ 529 – w/ Let's Wrestle
04.28 – Birmingham, AL @ The Bottletree
04.29 – Nashville, TN @ Mercy Lounge
04.30 – Newport, KY @ The Southgate House
05.01 – Chicago, IL @ Lincoln Hall