A Short Film Speculates on Just How Pervasive Gaming Culture Might Become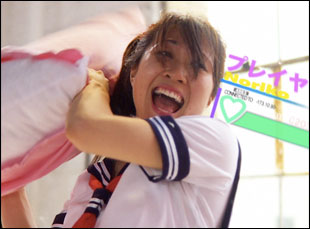 Posted by Evan Narcisse on
We're never actually in the real world in "PLAY," a 20-minute short film that's part of the FutureStates series, which asks filmmakers to postulate on aspects of life in the coming decades. Instead, viewers glide through a series of verisimilitudes, peeling away layer after layer of virtuality. "PLAY," which was directed by David Kaplan, who co-wrote the film with Eric Zimmerman, takes the viewer through some of the most commonly-held tropes of modern video games, but turns them on their ear. So, it's the cute Japanese schoolgirl who's playing the violent urban mayhem game reminiscent of the "Grand Theft Auto" series.
Lots of criticism has cropped up around video games. The medium's been portrayed as a dangerously addictive habit, a seed for societal irresponsibility or the domain of pervy weirdos. It's also been looked as a social connector and as a generator of ethereal interactive landscapes full of possibility. With an indie filmmaker and an indie gamemaker at the helm, "PLAY" looks at all of those ideas without judging. You can watch the film below — in the interview that follows, Kaplan and Zimmerman talk about the differences and similarities between games and movies and why Roger Ebert just may not get it.
How did this project get started? Were you approached by FutureStates or did you bring the idea to them?
David Kaplan: ITVS suggested I submit a proposal for a science-fiction short. A few people had recommended me based on my past work, particularly my fairy tale short films. I came up with the basic idea for "PLAY" and was happy to receive the initial development grant. At that point, I invited Eric to become involved in the project.
Eric Zimmerman: When David contacted me, he had the core idea of a film set in a future where games are indistinguishable from reality, and that the film followed a character through a series of games within games within games. David and I fleshed things out from there.
Did the two of you have a relationship before this project?
DK: We had never worked together before but we've known each other for almost nine years.
EZ: We've been admirers of each others' work from afar. The tipping point was when I got David to playtest my board game "The Unfinished Tale." There's a lot of writing in the board game that connects with some of the fairy tale themes of David's films.
Eric, you've made games and now a film. What were the biggest similarities and divergences between the two mediums?
EZ: This project reinforced for me the idea that games are not films, and that all of the big budget 3D games motivated by cinema envy are really barking up the wrong tree. Film is so much a documentary medium — even on a narrative project. Film captures a moment in time: a particular selection of lens and camera angle, a performance, the light on the scene. Games, on the other hand, are synthetic from the ground up. They're math. They're simulations. The similarity for me is that as a designer, I'm creating an experience for someone. With a nontraditional film like "PLAY," you have to really think about how the viewer is led into the experience, step by step, similar to the way that a player comes to learn how to play a game.
The first vignette adopts the camera language of certain video games, but that gets dropped. Was that shift making a point about evolution?
DK: We considered returning to the first-person-shooter POV perspective for some of the other segments, but my concern was that it would interfere with the audience's ability to immerse themselves fully in the film. It's a gimmick to get the film kick-started in a very visceral way. Plus, there are many video games, such as "World of Warcraft," which have a more traditional filmic third-person camera perspective.
EZ: It's much weirder to have a film that is a game in which you don't have a strict POV. The literal FPS idea keeps the viewer grounded in terms of who is the main character and what their point of view is supposed to be. But as soon as we move away from that, we have room for more ambiguity and misdirection.