Phosphorescent, "The Mermaid Parade" single.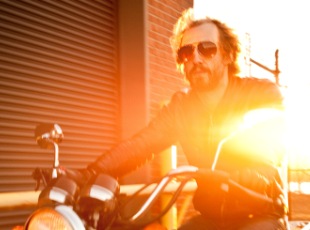 Posted by Brandon Kim on
I've been appreciating Phosphorescent for a while now, since I met songwriter Matthew Houck at my friend's house in the summer of 2007, where he played a cozy show for us in a living room that smelled like reefer and cookies.
[Phosphorescent, aka Matthew Houck. Photo by Sebastian Mlynarski.]
I just read that Phosphorescent is one of the most blogged about musicians, somewhere between M.I.A. and Caribou, according to the The Hype Machine aggregator anyway. I figured I'd give him a bump.
Phosphorescent's new album, Here's To Taking It Easy is due out on May 11. Here's a twinkling jangle of single off it, called "The Mermaid Parade."
Download MP3: Phosphorescent "The Mermaid Parade."
Watch Phosphorescent perform "At Death, A Proclamation" live.
TOUR DATES!
05/10/10 New York, NY- Other Music (free in-store performance)
05/11/10 Brooklyn, NY- Union Pool
05/12/10 Philadelphia, PA- The Blockley
05/13/10 New York, NY- Mercury Lounge