Patrick Watson & The Wooden Arms, musical Foley artists.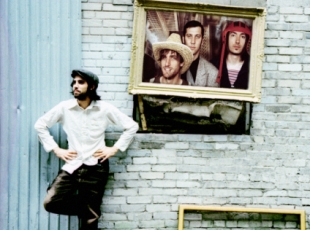 Posted by Brandon Kim on
Montreal musician Patrick Watson and his band, The Wooden Arms, have a rare talent. They make music that sounds cinematic. And I don't mean that they sound like a Danny Elfman choir, but they make songs that conjure places and stories, that take you somewhere.
[Patrick Watson with the band, Robbie Kuster, Mishka Stein, and Simon Angell]
What's more, their live performances resemble something that might occur on an old film sound stage as much as at a concert. It's as if Patrick Watson is composing in real time at his piano with his band of Foley artists creating music like sound effects to his score. They truly stand out, like men animated in a room of mannequins.
Watch this performance with just Patrick Watson and Robbie Kuster blowing Jian Ghomeshi's mind on QTV. It's the song "Beijing" off their record, Wooden Arms out on Secret City.

Patrick Watson & The Wooden Arms head out on a US tour on May 6th, starting in Brooklyn!
When: Thursday, May 6, 8 pm
Where: The Bell House,149 7th St, Brooklyn
When: Friday, May 7, 2010, 9 pm
Where: 92YTribeca, 200 Hudson Street, New York
Full tour dates.