The shameful case of Jafar Panahi.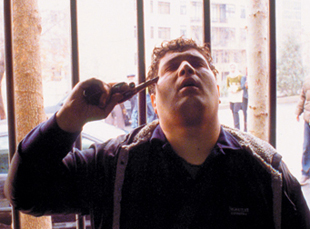 Posted by Vadim Rizov on
There's a certain sickening inevitability to the news that Iranian filmmaker Jafar Panahi has been arrested, confined and in danger of a heart attack. He'd been flirting with danger for a long time — first with a series of films uniformly banned in Iran, then by wearing the long green scarf signifying solidarity with the protesters at festivals. By effectively becoming the international cinematic voice of the opposition, something like this seemed only a matter of time in coming.
But it's still incredibly disturbing. Panahi's brilliant series of films from 1995's "The White Balloon" (his first feature) onwards have steadily ramped up the contentiousness. After "Balloon" and "The Mirror," Panahi ditched children altogether (normally the standard way of avoiding censorship) and began focusing on adults — specifically, those damaged and abused by society. "The Circle" and "Offside" focus on women (enough said), and "Crimson Gold" manages to indict an entire society through the desperation of one pizza-delivery guy. Observing from a chilly distance, Panahi gives the disenfranchised a voice in the traditional visual language of the contemporary arthouse film — until, all of a sudden, he's in the same spot as the people he's filming.
What makes Panahi brilliant (and dangerous to the regime) is that he's a visceral filmmaker above all. in his masterful feel for the hustle of urban Iran, he has the same snap, crackle and pop as "Dirty Harry," "The French Connection" or any number of '70s films that derive their propulsive energy from unblinking engagement with a squalid and restless city. Those movies felt urgent because they were looking at a society with urgent problems. Panahi does the same thing.
Panahi is one of the great filmmakers working (or, more precisely, unable to work) today, who's figured out how to balance social activism and aesthetic pleasures — a rare trick more people should figure out. His imprisonment is drawing outsize attention to the plight of the many other people in jail — or, according to Amnesty International, the 388 straight-up executed last year. He's becoming symbolic shorthand for the cruel repressive tendencies of an authoritarian regime. And that's sickening. The urgency of his case can't be overstated.
[Photos: "Crimson Gold," Wellspring Media, 2003; "The White Balloon," October Entertainment, 1995]