Review: "Open House," when real estate attacks.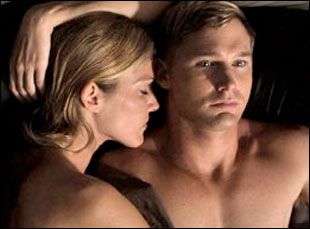 Posted by Alison Willmore on
Reviewed at the 2010 Tribeca Film Festival.
"Open House" is a horror movie about a world where soulless monsters lurk everywhere, awaiting the slightest opportunity to prey on the weak and vulnerable — Los Angeles. Ba-dum ching! I'll be here all week! But seriously, folks, there's a germ of an idea to the film — the directorial debut of Andrew Paquin, brother of Anna, who shows up briefly along with her fiance and "True Blood" co-star Stephen Moyer — to target the over-articulated issues of flaky yuppie types who like to go on and on about trust, smothering, codependency and open relationships.
Alas, anything worthwhile on that front is quickly buried beneath the kind of flabby slasher where a character will make the full circuit of her house, from second floor to basement, searching for someone in the middle of the night, but never turning on a light. Rachel Blanchard plays the light switch-impaired homeowner, Alice, whose efforts to sell her sweet SoCal pad after a painful divorce are halted by the arrival of a pair of serial killers. David and Lila (Brian Geraghty and Tricia Helfer) like to take over houses up for sale and reenact a domestic psychodrama that involves Lila seducing and then murdering strangers and David helping her clean up and then cooking dinner.
Lila thinks Alice is dead, but actually David's been keeping her in the crawlspace and letting her out during the day, while Lila's out (at the office?) and David writes (not a screenplay, which really seems like a missed punchline). As Lila's behavior escalates and the body count rises, David finds solace in Alice's company, and she tries to persuade him to flee with her. "Open House" is just too silly to seem like it's seriously attempting scares, but too formless and packed with filler to be anywhere near a satire. This one's for devoted fans of the actors involved only.
"Open House" does not yet have U.S. distribution.
[Photo: Geraghty and Helfer in "Open House," StoneBrook Entertainment, 2010]