13 On-Screen Couples That Were Also Off-Screen Couples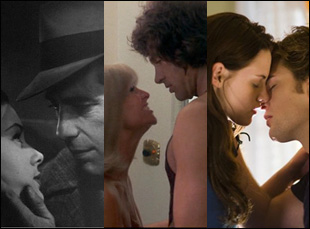 Posted by Matt Singer on
In the new film "Breaking Upwards," struggling twentysomething couple Daryl and Zoe decide to address their relationship problems by planning and then executing their own breakup. Daryl is played by director/producer/editor/co-writer Daryl Wein, Zoe is played by producer/co-writer Zoe Lister-Jones, and the breakup in the film is based on the one the two went through in real life. In his director's statement, Wein says that the duo "thought it would make it more interesting to explore the nature of performance by casting ourselves in the roles. To be in the story, as opposed to having a fictional couple play us, gives the film a true sense of authenticity."
Actors act, and people who hate each other off-screen can spark with electricity on it and vice versa. But there is something innately fascinating, and extremely voyeuristic, about movies in which people who are or who were intimate in real life recreate — or sometimes attempt and fail to recreate — their private chemistry in the most public forum possible. Here are 13 of the most interesting examples:
Humphrey Bogart and Lauren Bacall
"The Big Sleep"
"To Have and Have Not" (1944) introduced the world, and Humphrey Bogart, to Lauren Bacall. The combative flirtations of their characters, a symphony of cigarette lightings and double entendres, led to their intense off-screen affair. With the film a hit, a reunion in "The Big Sleep" (1946) with director Howard Hawks was fast-tracked. Before shooting began, Bogart informed Bacall that he would not leave his wife, Mayo Methot. This tension transferred to the set, where according to Todd McCarthy's Hawks biography, Bacall was so nervous she shook while pouring a cocktail and Bogart was driven "to nights of little sleep and very heavy drinking." That these personal tremors were successfully channeled into this fleet-footed gangster film is a testament to their artistry, as well as Hawks' sensitive handling of actors. And as they land verbal jabs in Philip Marlowe's office, inching closer to each other while prank-calling the cops, the suspiciously happy grins on their faces point to a couple free of worldly concerns when on the stage, wrapped up in each other's sarcastically funny embrace. They were married later that year, and parted only when Bogart passed away in 1957.
Katherine Hepburn and Spencer Tracy
"Adam's Rib"
By the time of "Adam's Rib" (1949), Katherine Hepburn and Spencer Tracy had been seeing each other for eight years and had made five other films together. Despite Tracy's refusal to divorce his wife because of his Catholic beliefs, he and Hepburn were an inseparable couple, cultivating the impeccable timing of a decades-long running vaudeville team. Working off a snappy script from Ruth Gordon and Garson Kanin, the duo was at their sniping best in "Adam's Rib," playing a husband-wife team of dueling lawyers. Hepburn is the assertive feminist pushing for equal rights while Tracy is the hemming and hawing defender of the letter of the law. They face off when a battered wife (the terrific Judy Holliday) takes an errant gun shot at her philandering husband (Tom Ewell). Tracy and Hepburn's ripostes ricochet like ping pong balls while they still manage to eye each other with the lusty leers of cooped-up teenagers. It's the ideal marriage that they could never make official off-screen, a mix of chummy insults, fake tears, emotional blow-ups, and a transcendently forgiving kind of love.
Ali MacGraw and Steve McQueen
"The Getaway"
The story of and the making of Sam Peckinpah's "The Getaway" are about the same thing: infidelity. The film itself is about a criminal, Doc McCoy (Steve McQueen), who gets his wife Carol (Ali MacGraw) to convince a corrupt politician to grant him early parole by any means necessary. When Doc learns what means were necessary (i.e. sexual ones), he is furious, straining the couple's relationship far more than the stress of having to flee from the cops and other gangster foes after a botched heist. The recently divorced McQueen and a still-married MacGraw began an intense affair during filming, with the film's three-act structure encapsulating its stars' entire subsequent relationship, from their instant, undeniable attraction (the fire in their eyes during their euphoric swimming hole frolic is unmistakable) to McQueen's obsessive, destructive jealousy — according to a recent Vanity Fair profile of MacGraw, Doc's cruel treatment of Carol is eerily similar to McQueen's paranoia after he and MacGraw married, and to his treatment of his ex-wife Neile Adams, who he once held at gunpoint after she'd cheated on him. The chemistry and the tension between the stars is palpable and the feeling that life and art are colliding in front of your eyes is inescapable.
Warren Beatty and Julie Christie
"Shampoo"
Hairstylist George Roundy (Warren Beatty) is trying to get in bed with wealthy businessman Lester Karpf (Jack Warden) in the hope that he'll loan him the money to open his own salon. The problem is George is already in bed with every woman in Lester's life, including his wife, his daughter, and his mistress. Julie Christie plays the mistress, one of George's former lovers, and by the time "Shampoo" went into production in 1974, Beatty and Christie were former lovers too. The "McCabe and Mrs. Miller" pair had been seriously involved for four years, but when the two were separated, the notoriously promiscuous Beatty — who slept with over 12,000 women in his lifetime, according to Peter Biskind's recent biography — would stray. Describing his behavior at the time, Beatty told Biskind in "Easy Riders, Raging Bulls," "You get slapped a lot, but you get fucked a lot, too." So does George, who sleeps with nearly every woman he meets but only ever pursues one of his conquests: Christie's Jackie. In a scene near the end of the picture given added weight by the couple's off-screen history, George tells Jackie that he can't imagine being with anyone when he's 50 years old except her. George tries to mend his womanizing ways, but it's too late. The tearful apology delivered at the end of the film may be as much from Beatty to Christie as it is from George to Jackie.