Aw, it thinks it's people! The eternal issue of narrating nature docs.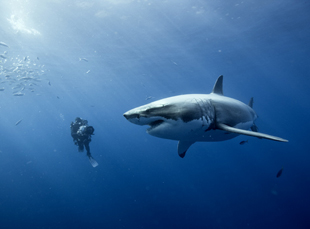 Posted by Vadim Rizov on
Just in time for Earth Day, here comes "Avatar" again….wait, I mean, here comes "Oceans," the second installment in the newly rebooted Disneynature series. As AV Club critic Scott Tobias pointed out, "For consecutive years, Disney has honored land (EARTH) and water (OCEANS) on Earth Day. This strikes me as short-sighted. What next?" Indeed.
When Walt Disney kicked-off the True-Life Adventures in 1948 — first as two-reel doc shorts, graduating to features with 1953's "The Living Desert" and rounding off with 1960's "Islands of the Sea" — he spread it out between micro-focused locals: desert, prairie, the wilderness in winter. As it happens, Disneynature has a plan (including the delightfully titled "African Cats: Kingdom of Courage") for one nature doc a year.
After the Disney True-Life empire collapsed, the nature documentary was for years the province of TV with sporadic exceptions. Presumably Disney was inspired to reinvigorate the genre after the 2005 success of "March of the Penguins," which leaves us with a problem — one of sober narration. When "March of the Penguins" had its original release in France, the penguins narrated from "their perspective": one adult male (Charles Berling from "Summer Hours," no less), one adult female and one baby penguin. For English release, however, we were given a portentous voice-over by Morgan Freeman. I'm guessing the intent to strip away charges of gratuitous cutesiness, but with its assumptions of parental love and nobility, the English narration was just as condescending in a different direction.
The main complaint in reviews of "Oceans" is that Pierce Brosnan's po-faced voice-over doesn't really bring anything to the party. This has always been an issue with nature docs — it's always tempting to either be ponderous or reduce animals to character types people can more easily relate to.
Frankly, if you're going to anthropomorphize the animals (something that annoyed Werner Herzog so much he gave us the world's first suicidal penguin in "Encounters at the End of the World"), there's not much wrong with the unrepentently for-your-entertainment approach of the old True-Life Adventures, which — whatever their faults — made no attempt to conceal the fact that they were actively Disneyfying nature. Take 1953's "The Living Desert," which — in its most infamous sequence — starts with basic footage of a scorpion mating dance and runs it forwards, backwards and pretty much any which way in time to an unbelievably cheesy square-dance vocal. It's ridiculous, but at least it's entertaining and more straightforward than trying to pretend animals have the same psychology as people. (The True-Life series, while shot by veteran photographers, was sculpted into shape by veteran animator James Algar, best known for "The Sorcerer's Apprentice" — raw footage was the grist for the Disney sensibility.)
Here it is, the scorpion square dance. It's not quite KittehRoulette, so tread carefully. In fact, if you've seen "Twin Peaks," the owl bobbing its head in time to music might scare the hell out of you:
[Photos: "Oceans," Disneynature, 2010; "The Living Desert," Buena Vista Home Entertainment, 1953]