Nash Edgerton, Stuntman Turned Director of "The Square"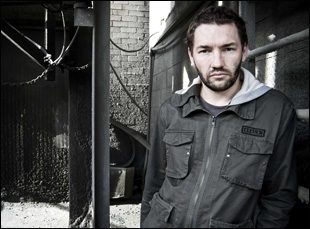 Posted by Stephen Saito on
Never has Christmas brought such bad tidings as in "The Square," a darkly comic thriller where tree lights are blamed for setting a house ablaze and holiday cards are used for blackmail. Yet this sordid tale of two cheating spouses (David Roberts and Claire van der Boom) whose plans to run away together go disastrously, spectacularly awry is a gift in the hands of Nash Edgerton, a first-time feature director who may have picked up both a knack for building tension and an appreciation for black humor while cheating death as a stuntman on such films as "The Matrix" and the "Star Wars" prequels.
Based on a story from his brother Joel (who co-wrote the script and has a supporting role in the film), "The Square" caused a bit of a sensation in its native Australia — it was nominated for seven Australian Film Institute Awards and picked up buzz here with a standing-room only screening at last year's SXSW Film Festival. (As it turned out, it would be the first punch landed by the Edgertons' Blue Tongue Films' collective, a group of Aussie filmmakers who descended on this year's Sundance with the Grand Jury Prize-winning "Animal Kingdom" and "Hesher," two of the fest's rare acquisitions.) Although it's probably best not to know too much about "The Square" going in, Edgerton took the time to talk to me about the transition from stuntman to director, his filmmaking band of brothers and going to this year's Oscars.
As a stuntman, you're asked to take everything into account for safety's sake — does that lend itself to directing a film with such an intricate plot?
I found that being a stuntman is all about being adaptable and about problem-solving. To me, filmmaking is very similar, just on a grander scale. Every day as a director, you're working against time and weather and egos and always trying to make things better and refine things. As a stunt performer, you're trying to make something look dangerous but do it as safely as possible and make it repeatable, so I guess I found that similar in those ways. And then the detail of the plot, everything has to tie up. I think I was constantly on top of that.
After working on shorts and performing stunts, was it hard to keep your own excitement level up over the course of a feature?
It was definitely harder just to pace myself during the process. I had worked on films that had gone for a long time, but just the mental capacity of trying to contain the whole film in your head and shooting it all out of order was totally challenging. The first couple of weeks, I was like "I never want to direct a movie ever again." But the further I got into the process, you get to know your crew a lot better and you get on a roll, and then I was really enjoying it and I just was dying to make another one.
Your brother Joel had the idea for the story since 2000 — that's a long time to be living with something.
He didn't actually start writing it for a while, he just kind of wrote the idea down, put it in a drawer. He and I were writing something else together and we didn't know how to write a script. We had never written one before, so we were learning as we went. In the mean time, he started writing ["The Square"] on the side and when he thought it was good, he was like "I think you should read this." He was working as an actor a lot and I was working as a stuntman, we were just both busy doing other things. But I just kept making shorts during that whole process just to practice directing.
One of the things that struck me about the film was how much of it took place in broad daylight, which goes against the conventions of the noir genre it's been associated with. How much did you want to embrace those conventions or avoid them?
I like the idea of working within the conventions and doing things differently — setting it during the day and playing it really straight. I thought the more I could base it in reality, the more tense it would be and the more realistic it would feel. The relationship [between the lovers] is not a steamy sexual affair like you see in the movies — it's real, they're having an affair and like in any relationship, it gets a little mundane. Then you hardly ever see what Christmas is like in Australia in movies, Christmas in the summer, so I just thought it would be nice to show that. There's lots of those little things that I hadn't really seen on film before.
You've spoken before about not wanting to set the film in a specific time or location, but at the same time, it's set in a suburbia like the one you grew up in.
In the same way "Jaws" is set in a made-up town, I wanted that feeling — the town could be anywhere in any part of the world. It just happens to be Australia because that's where we're from. But I like that whole idea of containing it in a town where everyone kind of knows each other and would make [the lovers] feel a little bit more trapped.