Review: "My Queen Karo," a commune coming-of-age.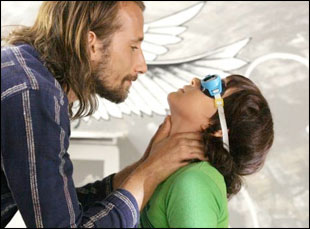 Posted by Alison Willmore on
Reviewed at the 2010 Tribeca Film Festival.
Like those pictures that can be interpreted as either a vase or the silhouettes of two lovers, "My Queen Karo" might be a young girl's coming of age story set in a squatters commune, or it might be the tale of the disintegration of a squatters commune as seen through the eyes of a child. It's a far better, if uneasier, film for this fluctuation in focus than if it settled for a more conventional route down only one of those paths.
For instance: There's a scene in which Karo's mother Dalia, who's been struggling with how to deal with the new lover that Raven, Karo's father, has taken, approaches the couple as they're getting frisky on a large shared mattress. She disrobes, and they cautiously welcome her into their embrace. And then Karo, through whose point of view everything unfolds, loses interest and, though we might crane our necks trying to keep watching the bohemian threesome, trots off to entertain herself with the constellation pattern made when she shines a flashlight through the fabric of her ratty bathing suit. She understands that her parents have been fighting, and that this moment represents a tentative, temporary truce. She doesn't know that the very arrangement, not to mention the fact that a ten-year-old girl is witnessing it, would be enough to give some people heart palpitations.
It's the '70s, and Karo, Dalia and Raven move to Amsterdam from Belgium, a uprooting echoing a similar one in director Dorothée Van Den Berghe's childhood. Dalia ("L'enfant"'s Déborah François), young and a little fragile, is in love with Raven. Raven (Matthias Schoenaerts), a handsome, charismatic artist, is in love with the whirling ideals of the era. They and their friends set up a utopian living arrangement in which everything — including sleeping, squabbles, sex, childcare and drug use — takes place in the open, in one giant communal room. This idealistic casting off of the bounds of convention begins causing problems almost instantly, when Raven meets the free-spirited Alice (Maria Kraakman) and welcomes her into the fold despite Dalia's objections.
Raven's a knotty character, someone who likes to use his own enthusiastic embrace of countercultural objectives as a bludgeon in his personal life. "We came here to be free, and already you're laying down rules?" he sniffs at a devastated Dalia when she requests monogamy. And yet he is a true believer, a genuine activist and a magnetic one — he's even able to pull Karo, who feels very protective over Dalia, to his side. Karo, played by the boyish Anna Franziska Jaeger, is realistically childlike in not always charming ways — she's capricious and half-feral, runs away, throws tantrums and acts out. In a place where every potential authority figure has already tossed out all the rules, there's a disquieting amount of room for her to roam unattended.
And yet… while "My Queen Karo" doesn't offer anything like a seal of approval for the rickety lifestyle it portrays, it refuses to condemn the whole doomed, starry-eyed enterprise either. There are many moments of unfettered joy, from the arrivals tossing down their giant mattress in their new squat and bounding onto it, home at last, to the camera that stays with Karo as she's on the swing, keeping on her happy face as the world swirls behind her. Maybe the film's best read as a universal coming of age after all: Karo's forced, earlier than most, to deal with the realization that her parents are flawed and far from infallible, while her parents and their compatriots have to face the fact that people come up with rules and build walls for a reason.
"My Queen Karo" is currently without U.S. distribution.