Review: "My Brothers," quirky (Irish) family road trip.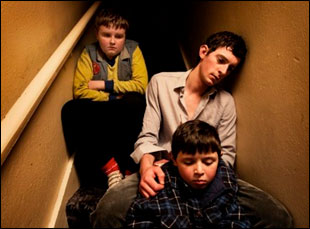 Posted by Alison Willmore on
Reviewed at the 2010 Tribeca Film Festival.
"My Brothers" is the directorial debut of Paul Fraser, who's co-written several of Shane Meadows' films, from "TwentyFourSeven" to "Somers Town." Watching it, I felt a renew appreciation for Meadows' dexterity with material that flirts with but generally (and magically) avoids taxing sentimentality. "My Brothers," alas, has no such miraculous delicacy, and takes regular dips into bathos — its premise, of three brothers who go on an impromptu road trip to replace their dying father's broken watch, makes that practically unavoidable. The problem isn't a lack of sincere emotion — the specifics of the late '80s Irish setting made it clear before ever checking that the story was informed by aspects of writer William Collins' youth — but the scaffolding that surrounds and eventually obscures it.
The brothers are 17-year-old Noel, 11-year-old Paudie and seven-year-old Scwally, played by Timmy Creed, Paul Courtney and TJ Griffin, all essentially newcomers. The watch is a cheap but treasured digital one that's crushed, along with Noel's wrist, by a schoolyard bully. Noel gets it into his head that he'll borrow his boss' rickety bread delivery van for the weekend in order to get a new one, but with his injury, he needs help shifting gears, and so he recruits Paudie. And because Scwally sees them, he ends up tagging along as well for what turns into a nearly two-day picaresque ordeal of car breakdowns, creepy pedophiles, kindly pub owners, schoolgirl sports teams and one beached whale.
How children process grief is difficult but potentially rich territory, particularly over the different levels of maturity represented by Scwally, who scarcely comprehends, Paudie, who's starting to, and who's boisterous and faster to anger, and Noel, who's been dragged into adulthood early by all his added responsibilities. And there are glimpses of something genuine and complicated there, from Paudie and Scwally sitting blithely on the edge of their dying dad's bed to watch his TV to Noel's diary, in which he's always scribbling, and in which it turns out he speculates that the burdens of working his "shit job" in order to support the family weighed his father down.
But the journey, heavily seasoned with music queues and episodic digressions, feels purposeless, even before we learn that the boys are headed to a seedy seaside town in which the family once vacationed in order to try to win the replacement watch from a claw vending machine at the arcade. At that point, all "they're not acting rationally because they're sad" or "they'd all just like to forget their problems for a while" or "they're young and not thinking things through" rationalizations were, for me, rendered moot — they left their mother alone to tend to her dying husband without telling her where they were headed, for that? That's the kind of contrivance that would shame the worst stereotype of a Sundance movie, and that's saying something.
"My Brothers" is currently without U.S. distribution.