Mumblecore is dead. Long live mumblecore.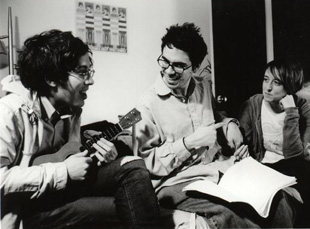 Posted by Vadim Rizov on
Following the same principle that dictates that any band that jumps from the underground to the mainstream loses its street cred, it's safe to say that "mumblecore" — an initially jokey tag subsequently attached to a series of movies that really did have something in common for a while — is all but dead.
The past few weeks have seen articles about everything from A.O. Scott's claim that Greta Gerwig is the most representative actress of her generation to an odd rant in Slate about the concept of "mumblecore nudity." If punk exploded into post-punk the moment anyone wanted to write about it, then it seems safe to say mumblecore's historical moment is dead (not least because no one could clearly define it).
Mumblecore was both real (a group of twentysomething filmmakers recording the minute emotional dilemmas of twentysomethings with a near-pathlogical fearlessness that could be confused with narcissism) and unreal (i.e., many of the collaboratory directors had very different ways of going about it). That Jessica Grose could categorize a particular type of nudity as "mumblecore" (when many of the films involved were mostly sexless, and criticized for that) speaks to the confusion attendant in summarizing a whole genre that didn't really exist.
Forgetting all that noise for a minute, what's interesting about "mumblecore" is that it did focus around a certain age cohort — demographically slimmed down to the white, young and post-collegiate, to be sure, if that's something to be apologetic about — in a way that hadn't been done before. Independent films up to that point had treated youth in a somewhat abstract and/or self-ghettoizing fashion: Jim Jarmusch's hipsters (by any other name, but what else to call someone striding through the neighborhood to the self-broadcasted tune of Screamin' Jay Hawkins), Richard Linklater's abstracted slackers, Kevin Smith's self-aggrandizing men of low expectations. (Or, to go back even further, the proletarians of your average Cassavetes film — seemingly naturalistic, but always portrayed by self-conscious actors and self-consciously operatic.)
What "mumblecore" insisted upon (quietly, of course) was that a whole new group of kids were out there who'd never been taught to socialize had the right to exist that way — not to learn to speak with assurance and ease, but to negotiate the terms of how they addressed each other, whether that looked sub-adult or not. Point being there's a whole generational rift that still persists from the '60s — not about "progressive politics" or so on, but about what it means to be an adult now, and at what point you can have a mature income/home and still conduct yourself in a way that isn't putatively "adult."
That's what mattered: to have people telling stories about others their own age without pathologizing it or insisting upon a generational crisis. The most unnerving revelation? Passive-aggressive, evasive patterns of expression are normal now for whatever reason (Douglas Coupland will surely have an answer soon). The hostility towards mumblecore — one that will persist long after the term encompasses such a diffuse group of movies that it's even more meaningless than it is now — has more to do with that revelation than the value of the movies themselves.
[Photos: "Mutual Appreciation," Image Entertainment, 2005; "Hannah Takes The Stairs," IFC, 2007]