Bringing Jim Morrison back to life in the long-lost "HWY."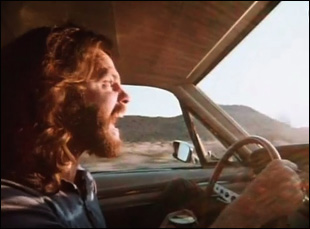 Posted by Stephen Saito on
One of the most immediately striking things about "When You're Strange: A Film About the Doors," the feature-length doc about the L.A. band hitting theaters this week, is the film's use of "HWY: An American Pastoral," an experimental film shot by Jim Morrison in 1969 that up until now has only been available in blurry bootleg copies (like the one that currently exists on Google Video).
While there's a hallucinatory haziness inherent to a deteriorating VHS copy of a copy, it's the pristine footage of Morrison that director Tom DiCillo dug up from the film's original 35mm negative that proves to be truly surreal. (So much so that when the film premiered at Sundance in 2008, potential distributors complained that the film featured reenactments of the iconic singer, which is understandable not only because of the quality of the footage, but also when you see scenes with Morrison driving down a lonely highway as a radio announcer reports that the singer has died.)
"There's no way in hell we could've recreated that," says DiCillo, who sifted through hours and hours of uncategorized footage when he came across Morrison's "HWY." "It wasn't until I was deeply into it I realized that this came from 'HWY' and I'm actually glad I didn't know that because it might've made me a little resistant to somehow pilfer his film. But once I had the idea, I was kind of locked onto it, which was wow, this is like the spirit of Morrison wandering through the film."
Indeed, "HWY" serves as the narrative backbone of "When You're Strange," which consists strictly of archival footage of the band and narration from Johnny Depp, charting The Doors' six-year run from 1965 to Morrison's death in 1971. The fact that the film looks as good as it does, thanks to the well-honed preservation efforts of the band, is a reminder that the initial seed of The Doors was planted when Morrison and keyboardist Ray Manzarek first met at UCLA Film School. (Depp devilishly informs us during the film that Morrison's lone student film earned him a D.)
"People have actually suggested to me that you should've distressed [the footage]," DiCillo says now. "'You should've made it dirty and cracked and all this.' No, I don't agree with that. I think it should look as good as it was when [Morrison] shot it."
The result is as arresting as Robby Krieger's meandering guitar licks at the beginning of "The End," heightening the legend while leaving the impression there's still much more to be discovered.