Review: "Micmacs," paddywhack, give a dog a bone.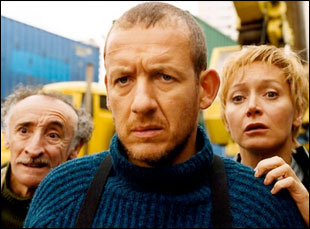 Posted by Matt Singer on
Reviewed at the 2010 Tribeca Film Festival.
A man who works in a video store and spends his days watching movies catches a stray bullet to the brain and winds up in a movie himself in French director Jean-Pierre Jeunet's "Micmacs," which looks a bit like "Yojimbo" or "A Fistful of Dollars," where a savvy warrior places himself between two powerful rivals and engineers their mutual destruction, refracted through Jeunet's (best known here for "Amélie") trademark whimsical touch.
The man in this case is Bazil (Dany Boon) and after he survives his head injury but loses his job and his home, he's taken in by a group of misfits that resembles a French, grown-up version of The Goonies, and includes a contortionist (Julie Ferrier), a girl with a knack for numbers (Marie-Julie Baup), and a human cannonball (Dominique Pinon). After Bazil learns that the bullet that's taken up permanent residence in his skull and the land mine that killed his father in Africa years earlier were made by competing weapons manufacturers, he plans his revenge and recruits his new surrogate family to help him.
Their schemes bring a Rube Golderbergian prankster's ethos to "Ocean's 11"-style heist film shenanigans: they might stage a sexual encounter to distract a horny guard, and then a woman who can fit herself inside a refrigerator might slip a mickey in his coffee while he's distracted. Leave it to Jeunet to take a fairly serious issue — the ethics of profiteering off the manufacture of deadly weapons — and tackle it with a hefty dose of absurdity and outlandish humor. Also leave it to Jeunet to make a film that uses the language of silent physical comedy to celebrate the spirit of grassroots activism and journalism on the Internet. By linking the two, he suggests that artists and journalists carving out a niche on YouTube are the ones carrying on the spirit and magic of film's first pioneers, not the established filmmakers in Hollywood (or, for that matter, directors like himself).
There's not much more to "Micmacs" than that, and audiences allergic to quirk should be warned that the film contains several sequences contaminated with near toxic levels. But Boon, a relative unknown in America but a massive star in France, is a charmingly disheveled protagonist, and the movie bounces from one ingeniously designed set piece to the next with the same ethos as its protagonists: an air of fun and a spirit of invention.
"Micmacs" will be released by Sony Pictures Classics on May 28th.