Review: "Meet Monica Velour," requiem for a porn star.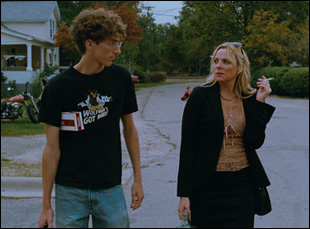 Posted by Stephen Saito on
Reviewed at the 2010 Tribeca Film Festival.
"It's not a National Lampoon's movie and it's not a road movie," writer/director Keith Bearden said after the second screening of his comedy "Meet Monica Velour," a necessity of sorts since the easiest description of its logline might have audiences running in the other direction. As noted by Cinematical's Scott Weinberg, the synopsis of a geek seeking out a retired porn star he worships after his high school graduation sounds like formulaic crap easily given to cliché. But while no one will mistake "Monica Velour" for high art, it's a sly, unforced coming-of-age story that may be slightly predictable, but is always engaging.
You wouldn't think this immediately when introduced to Tobe (Dustin Ingram), a love child of Napoleon Dynamite and Where's Waldo with an offputtingly toothy grin and a mop of blondish curls. He has very particular tastes, as we learn when he drives around his father's Weenie Wiz truck to a soundtrack of '30s jazz, and one of them happens to be Monica Velour (Kim Cattrall), a leading lady of '80s era adult entertainment who has now been reduced to being the featured dancer at a low-rent Indiana strip joint. Like the many collectibles he's acquired over the years of Velour paraphernalia, Tobe learns this latter fact over the internet. Combined with a potential buyer for the hot dog truck in the area, it's enough to lead him to travel from Washington to the Midwest to meet her in person.
Bearden spends little time on the road since it's the relationship between Tobe and Monica that proves to be bumpy. An adoring Tobe is faced with the reality that his dream woman is divorced, desperate for cash and has a daughter she'd like to see more of. Though he's undeterred, Monica keeps him at an arm's distance, yet she's intrigued enough to keep the door ajar for a friendship to develop. Although Bearden makes concessions to the lowbrow premise — there are the obligatory mentions of Monica's porn credits ("Poon 200 B.C.," "A Long Day's Journey Into Kate"), you get to see (and subsequently can't unsee) the bare ass of Tobe's father post-coitus, played by Brian Dennehy — it's a film with a generally light touch where every character is fully realized.
The biggest beneficiary is Cattrall, who gets the most adult role she's ever been allowed to play — surely the irony wasn't lost on her that it took a role as a former porn star for to shed her long-held image as a sex kitten. During the post-screening Q & A, Bearden told the story of how he met the "Sex and the City" star at a Thai restaurant in 52nd St. in New York and was sure he would scare her off with his laundry list of demands: "We're going to light you real bad. You have to gain weight," etc. By the time he reached the subway, his agent told him she was in. (Bearden wouldn't give names of the "big name actresses" who competed for Cattrall's part, but he did mention that "half the cast of 'The Wire,'" Garrett Morris and Busta Rhymes were willing to audition for the role of the potential hot dog truck buyer/artist ultimately played in the film by Keith David.)
Although there are some areas in which Bearden, a first-time feature director, overplays his hand, it's not enough to overlook the goodness in "Meet Monica Velour," where cynicism has no place, even if gangbangs do.
"Meet Monica Velour" does not yet have U.S. distribution.