Review: "Lucky Life": What can you say about a friend who died?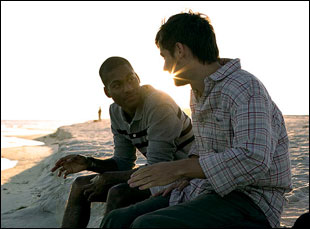 Posted by Alison Willmore on
Reviewed at the 2010 Tribeca Film Festival.
Lee Isaac Chung's first feature, the Rwanda-set "Munyurangabo," was a minor sensation back in 2007 — at least, as much as a quiet, oblique film that scarcely saw theaters outside of the festival circuit can be. The film brilliantly captured how trauma lingers like almost imperceptible shivers, the 1994 genocide trembling just beneath the surface of a deceptively simple story of two boys traveling from the city toward an only later divulged goal.
The exoticism of a Korean-American from rural Arkansas making a film about an Africa atrocity — with a non-professional cast and a crew made up partially of locals from a filmmaking class he taught in Kigali — certainly added an extra sheen to "Munyurangabo" that Chung's follow-up, "Lucky Life," obviously can't take advantage of. But the film's problems have nothing to do with that. While beautifully shot (if sometimes in a way that's oppressively calculated), "Lucky Life" comes across as a feature that was conceived themes first, with characters and structure created mainly as a vehicle to get those themes across — mortality, adulthood, memory, all underlined with images and dialog as if they could somehow be missed. It speaks to that old admonition to show, not tell — how can you care about people who basically just scaffolding there to support broad ideas?
"Lucky Life" is about four friends who, every year, have headed down to a beach house in North Carolina for a vacation together. This year is a significant one for several reasons — Mark (Daniel O'Keefe) and Karen (Megan McKenna) are now married, Alex (Richard Harvell) is in his residency and preparing to propose to his girlfriend, and Jason (Kenyon Adams) has been diagnosed with aggressive cancer. It's the last time he'll be able to do the trip, and the group struggles with how to acknowledge that, if to acknowledge it, and how to deal with someone whose life is getting cut so short, and who seems already only half-tethered to the earth.
The cast is once again made up of non-pros — I would say to the film's serious detriment. The three non-terminal friends should embodied some sense of tamped down emotion, but with their flat affects, particularly Mark, they seem instead distracted or sedated. Whenever they speak of some strong feeling, it's impossible to believe them — they don't seem capable of such a thing. In combination with the relative blandness of the characters themselves, they manifest a curious anti-charisma, in which, whenever they talk, your attention slides off them to their surroundings. Fortunately, those surroundings are without question gorgeously photographed, all dreamlike blown-out light and cool, quiet interiors, frames within frames of doors and windows — though the extreme care with which some shots are set up can be its own distraction, calling your attention to their craft more than the actual content.
Told in an elliptical manner, "Lucky Life" is divided between the trip and a period some time afterward, after Jason has passed and when Mark and Karen have, after much difficulty, finally conceived. Mark, a would-be writer, often recites in voice over the poetry of Gerald Stern, who Chung cites as an influence on the film, but which doesn't make for a very compelling punctuation to what's already aspirationally lyrical. In the end, "Lucky Life"'s issue seems to be that it thinks too much, but shows too little. Really, there are worse problems to have.
"Lucky Life" is currently without distribution.