Love of Everything, Best in Tensions.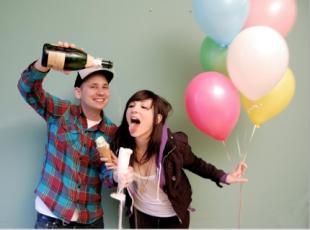 Posted by Brandon Kim on
Bobby Burg has been a busy, busy bee, this decade making friends, cutting records, marrying hot illegal immigrant chicks. Chicago, New York, he rolls with the bands Joan of Arc, Make Believe, Vacations, Chin Up Chin Up and his own thing, Love of Everything.
[Love of Everything: Bobby Burg and Elisse La Roche]
He has his own label, called Record Label and just released a new Love of Everything LP called Best in Tensions with his "former illegal immigrant wife,
Elisse La Roche." Must be hard. Friends too joined in the recording, many from the aforementioned Chicago bands. I dig this album a lot. The songs are brilliantly short and sweet like those Guided By Voices ditties once upon a time (almost half are under 1:50). This is throw open the windows and throw caution to the wind, summer pop, just in time.
Check out this charmer, "Fear of Missing Out," shot live, one-take style on a half pipe. My kind of Tennis.
Best in Tensions out now on Polyvinyl.