Lindsay Lohan and the difference between a movie and music star flame-out.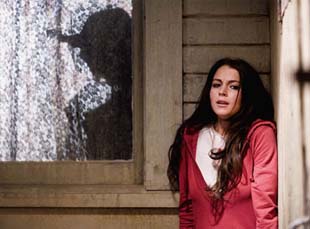 Posted by Vadim Rizov on
Like 3D and the death of criticism, Lindsay Lohan is the column-filling gift that keeps on giving. Yesterday saw two separate articles on La Lohan from The Wrap, and today the AV Club's Nathan Rabin examines late-period flops "I Know Who Killed Me" (which is kind of awesome — seriously) and "Chapter 27."That's a lot of attention for an actress who hasn't had a theatrical release in three years.
Much of this coverage is, predictably, a little ghoulish, though what makes it worse is the quasi-paternalistic, first-person direct form of "advice" a few of these columns pride themselves on. "it ist [sic] too late for her to get it together?" asks the sub-hed on the first Wrap column, as if Lohan were the recalcitrant type who'd once turned in her homework on time and was now smoking pot under the bleachers and might not make it into college.
It's reminiscent of that infamous 2007 letter from producer James G. Robinson chiding Lohan for having "endangered the quality" of "Georgia Rule," a Garry Marshall movie about an old woman taming a young firebrand's downward spiral (spare me). At the time, Salon's Stephanie Zacharek speculated that Lohan's behavior might have been "a subliminal, albeit inappropriate, response to this weird, semi-repressive material."
Lohan's movies post-2005 have, in fact, repeatedly played off her troubled image. In 2006's "Just My Luck," a girl with perfect luck swaps bodies with a guy whose luck is consistently terrible, precipitating a downward spiral through no luck (heh) of her own. In "I Know Who Killed Me" she plays twins that more or less perfectly sum up the Madonna/whore split. So let's not say that studios didn't try to take advantage of this for a while.
So what's the difference between Britney Spears and Lindsay Lohan? Certainly not the quality and alarming nature of the freak-outs. The difference is that Spears is still — until she proves otherwise — bankable. Making movies is more complicated (in production, at least) — you have to get insurance, which a particularly wayward star will make impossible.
It's worth checking out the Lil Wayne doc "The Carter," which makes it clear that, if it's in their best financial interests, record companies will stay far away from finding out what their artists are up to in the studio, substance-abuse wise. We expect our music stars to be martyrs to excess for our entertainment — something Salon's Brendan O'Neill distastefully but straightforwardedly expressed in an essay five years ago where he scolded British musicians for not taking enough drugs and took Pete Doherty to task for daring to apologize for his drug problems (because apparently that's not the way to take Tony Blair down?).
Lohan may well be of questionable talent and a trainwreck and so on. But the dogpiling to repeatedly remind us how she's "blown it" suggests a collective degree of moralizing that has nothing to do with genuine concern — it's more like everyone in America apparently wants to work for an insurance company. Just imagine what they would have done to Elizabeth Taylor now.
[Photos: "I Know Who Killed Me," Tristar, 2007. Video: "Georgia Rule," Universal Pictures, 2007; "The Carter," Virgil Films & Entertainment, 2009]