"Killing Bono" features unreleased, 1970's teenage U2 song.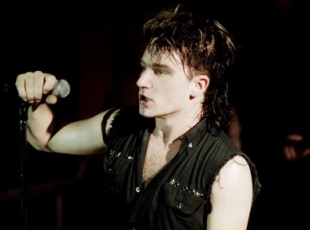 Posted by Brandon Kim on
"Killing Bono," based on the Neil McCormick autobiography of the same name (though originally released as "I Was Bono's Doppelganger" in the UK) is a comedy about two luckless brothers, Neil and Ivan McCormick, trying to make it with their band in late 1970's Dublin. They just happen to have four more talented classmates named Adam Clayton, Larry Mullen, Jr., David Evans (The Edge) and Paul David Hewson – aka Bono.
Of course, these teenage rivals of theirs go on to become U2, the biggest thing since TV. The film stars Ben Barnes ("Easy Virtue," "The Chronicles of Narnia: Prince Caspian") and Robert Sheehan ("Season of the Witch," "Cherrybomb") as Neil and Ivan. Martin McCann, who recently appeared in "Clash of the TItans," and HBO's "The pacific," plays the teenage Bono.
Can't say I'm all fired up by U2 any more, but I do dig some of those early gems, like "I will Follow," and "Party Girl." The prospect of hearing some late 70's, still kind of punk, pre-U2, U2 is tantalizing. So, I got a bit excited when I read that the film's music producer, Ciaran Gribbin, was "given the thumbs-up by the band to rework some of their earliest material for the actors to perform" including a never before released song recorded when they were in school [Herald.ie].
"It was written before U2 ever existed. They never officially released it, they recorded it when they were teenagers and called themselves The Hype," Gribbin said. The song is allegedly called "Secret Mission," but I believe that to be misreported, since I know of a song from that time called "Street Mission." Either Bono and crew had a bunch of early songs, all with a hilarious "Mission" theme (possible I suppose, for high school dudes in 1978) or these tracks are one and the same.
In any case, here's a video from 1978 of the boys playing "Street Mission." If it's not the same exact song, it should at least hint at what's in store in "Killing Bono." Aside from the obvious comedy, I imagine a little reworking and this could make for a well played soundtrack.
(Volume is incredibly low, so you will have to turn up)
The film was shot in Belfast, wrapped in February and should see a UK/Ireland release in the near future. There's no US distributor at the moment.