Jimi Hendrix and the elusive music biopic.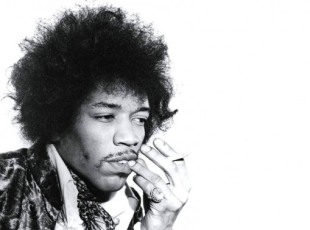 Posted by Brandon Kim on
For every Frank Sinatra or Ray Charles biopic that gets made there are a dozen more in the works. And for every "Control," or "Walk the Line" or "Amadeus" there are countless films that never get out of development. Music flicks have special obstacles along with the usual ones faced by all films, not least of which is finding the right actors to play what tend to be very recognizable people.
People with real, tangible, talents too. It's challenging enough portraying Richard Nixon or Harvey Milk, but what if you have to play piano convincingly or sing well too? Audiences may be entirely forgiving about how much Philip Seymour Hoffman actually looks like Truman Capote, but the same attitude is less apt to apply to a rock star with an iconic look.
Worse for the music biopic is the licensing of all those songs, that without, make the picture pointless. And then there's the estate to come to terms with, even bring on board as producers or meddlers as the case may be. Variety lays out many of the pitfalls faced by recent attempts, as well as some ongoing developments – the one that caught my attention is a possible new Hendrix venture that seems to be getting developed backwards, with the estate courting filmmakers as opposed to the other way around.
Janie Hendrix, half-sister to the late guitar hero, retained control of most of the Hendrix estate in a 2004 court battle with Jimi's little brother Leon Hendrix, and is now seeking to get a film off the ground.
Rather than entertaining offers by potential filmmakers looking to make a biopic, she decided to reach out to specific filmmakers with whom she'd like to work. "The plan is to see if we have the same vision," she says. "And we'll go from there."
Who and how and most importantly, will it be cool? remains to be seen. About his lifestyle and the drugs, she added:
"We all knew Jimi experimented with drugs; it was the '60s," says Hendrix. "But on the other hand, he was a workaholic when it came to his music. We want people to really remember Jimi for his dedication and his gift to the world: his music."
Fair enough. Though I was not that impressed with an interview she gave last month to Seattle Weekly where she talked of a decade of coming Hendrix releases (with Sony) from a vault admitting no understanding of what Jimi intended and giving no indication of any creative or wondrous ways in which they intend to bring some of these gems to light in a way Jimi would have dug. She also said "No" a lot and gave a contrary answer about her estranged brother Leon, who was shut out from any estate inheritance, saying "I support my brother," and in the next breath, "I'm not sure about supporting, you know. He was offered a job years ago, and he didn't want it."
Producer Thomas Tull, who's been involved/responsible for everything from "It Might Get Loud" to "Watchmen" to yesterdays turd, "Clash of the Titans" is working on an untitled Jimi Hendrix project – whether Janie is on board yet we don't know. Maybe this will be the one. But who could play such a legend?