Jim Thompson looms "Large" from beyond the grave.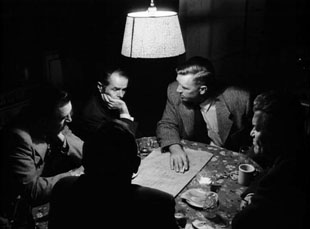 Posted by Vadim Rizov on
One of the more intriguing items in today's round of development and production updates is the laconic Twitter update from Production Weekly noting that "Lunatic at Large" — a story written by Jim Thompson and Stanley Kubrick in the '50s, the manuscript lost for decades, then rediscovered in 1999 — is moving forward into production, with Scarlett Johansson (vamping for her femme fatale role in "Match Point" and now presumably arriving at her logical showcase) and Sam Rockwell, who is, if nothing else, a good default choice for the role of "lunatic," although the central mystery of the film is determining which one is a former axe murderer recently released from a mental institution. It's surely the least expensive unrealized Kubrick project to make (less so than, say, the Napoleon movie).
Jim Thompson is commonly slotted as a pulp noir writer, which is slightly off the mark: it'd be fairer to say that he's the first neo-noir author. Thompson started writing a little later than the writers that defined noir — Dashiell Hammett, James M. Cain, Cornell Woolrich, Raymond Chandler et al. — and his defining moments spread from the '50s to the '70s. The great adaptations of those other writers were all done by the early '50s, henceforth only to be revisited in strikingly revisionist ways — Bob Rafelson's sexually explicit redux of Cain's "The Postman Always Rings Twice," Robert Altman's faithful-in-spirit but defiantly postmodern subversion of Chandler's "The Long Goodbye," Truffaut's jokey reworking of Cornell Woolrich in "Mississippi Mermaid" and so on. But you could argue that Thompson — who didn't make it to the screen until his 1956 adaptation of Lionel White's "The Killing" — is only now being served with the brutality and tenseness his work deserves.
Consider that despite the fact Thompson wrote screenplays and TV episodes through the '60s, he didn't get adapted until 1972's "The Getaway" (which he felt was bowdlerized). The truly major Thompson films followed: Bertrand Tavernier's 1981 "Coup de Torchon" (a truly mindblowing piece of goods, with Philippe Noiret running around a French Senegalese colony killing people for pragmatic reasons), the 1990 version of "The Grifters" (one of the few plausible retro-noirs, but with non-self-congratulatory female nudity), and the reportedly brutal "The Killer Inside Me." that's hitting the U.S. in June. More so than the writers he's lumped in with, Thompson's main focus is frequently violence and action rather than paranoia and atmosphere.
That's not a knock on the other writers (I'm a Chandler partisan myself). But it's finally Thompson's time to shine. Other noir writers are so steeped in their time that filming them is a question of revisiting, revising and subversion, while Thompson's work can be filmed straight-up. Only now are we catching up to the true grimness of his work.
[Photos: "The Killing," MGM/UA Home Entertainment, 1956; "Coup de torchon," Criterion Collection, 1981.]