For a truly immersive movie experience, you might need an iPhone.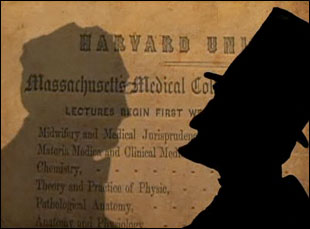 Posted by Vadim Rizov on
The '50s saw the introduction of Cinerama, which synced up three simultaneous projectors aimed at a giant curved screen. "You are there!," the advertising promised, because of course it would take the biggest, most immersive screens to ever hope to fool you into think you were something else.
So there's something fitting about "Murder on Beacon Hill," a movie (sort of) that really can mean you are there, involving the tiny screen of your iPhone. It's an app from Untravel Media that you download and then, ideally, wander around Boston with, tramping through historical landmarks with your guide, local girl Alexandra McDougall. The story is that of the 1849-50 Parkman-Webster case, and the scenes illuminate what happened — though you can watch and visit the sites in any order.
The whole thing will be shown in a 43-minute block Sunday at the Boston International Film Festival. This is, as the Guardian's Ryan Gilbey notes, "not quite the Lumière brothers at the Grand Café in 1895," but it's something different anyway.
Unfortunately, the app doesn't seem all that compelling; you can watch it here. "I like the idea of history as jazz," announces McDougall at the start, before informing us that a while ago she began obsessively rewatching a PBS documentary called "Murder at Harvard," and which, with evidence and letters read out by overacting voices in that uniquely PBS-y style, seems to have influenced "Murder on Beacon Hill" stylistically a little too much. But hey, you can hold up your phone and look at something twice over, once as revealingly contrasting image and once in real size. That's cool.
The most exciting aspect of this is the promise of how much more could be done in this direction. At the very least, some movies — judiciously clipped for iPhone or whatever — could make useful compare-and-contrasts for the tourist/visitor. It'd be great to walk through Barcelona armed with a copy of Hiroshi Teshigahara's documentary "Antonio Gaudi" (nothing more than reverential shots of the buildings, with music and no narration) for suggestions on which of his buildings to visit and angles to look at it from. Or perhaps the herds of tourists who come to New York for "Sex and the City" tours can break off from loud groups and become inconspicuous individuals and pairs wandering at their leisure. Even better might be montages of public places as they appeared in the past, to hold up and see how they've changed while standing on the spot; rare is the place completely identical to even thirty years ago.
The applications so far look mild, but I'm pretty sure the first person that combines an iPhone narrative that lures you from one dark corner to another in an intense haunted house, only to be attacked by some kind of ghoul or serial killer, will make a killing whatever Halloween they come up with it.
[Photos: "Murder on Beacon Hill," Untravel Media, 2010; "Antonio Gaudi," Criterion Collection, 1984]