A eulogy for the vanishing "Hitler finds out" meme.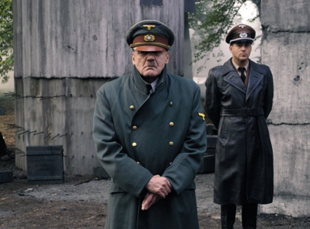 Posted by Vadim Rizov on
Ten years ago, when the internet was young(er) and people still used terms like "the information superhighway," it would've been difficult to foresee a future in which a three-minute Hitler tirade would become one of the web's hardiest punchlines.
It's been a while since Hitler on screen was an untouchably serious subject — on Nickelodeon's "Hey Arnold!," he was beaten up by Arnold's grandpa, while in "Little Nicky" he had a pineapple shoved up his ass.
But that kind of taking-evil-down-a-notch humor isn't the same thing as the well-known Hitler meme currently being pulled from YouTube by Constantin Films, the production company that made 2004's "Downfall." If you're unfamiliar, it involves the resubtitling of a climactic bunker scene in the film to make it appear that Hitler is throwing a tantrum because Sarah Palin's resigned, or because there's no camera on the iPod Touch, or because he wasn't able to get tickets to "Billy Elliot" on Broadway. The blog Department of Alchemy has a long consideration of the thing.
When watching "Downfall," the splenetic final rant that spawned this meme didn't even register with me — the movie's essentially a repetitive 150-minute loop into the downward spiral of the Fuhrer's last days that gets tedious fast. Whoever started this (possibly YouTube user DReaperF4) saw something there that was easy to miss, cut it out, and exposed the fundamental absurdity.
According to director Oliver Hirschbiegel, who was interviewed by New York, "The point of the film was to kick these terrible people off the throne that made them demons, making them real and their actions into reality. I think it's only fair if now it's taken as part of our history, and used for whatever purposes people like." But these YouTubers aren't mocking Hitler so much as the idea of a movie that tries to explain evil through ranting and raving. Undercutting that pretension with some strong words about the Xbox is really the only sensible response.
Defenders of the meme who are trying to claim fair use insist that its popularity might encourage people to watch Hirschbiegel's film. But how could anything else top what they've already seen? If "Downfall" is remembered in years hence, it won't be for Hirschbiegel's understandable but unachievable goals. It'll be for creating an unusually persistent internet virus that outlived its subject matter, and for pushing Hitler humor to a new level of acceptability — into straight-up "Adult Swim" fodder.
[Photos: "Downfall," Sony Pictures Home Entertainment, 2004; "Little Nicky," New Line Cinema, 2000]