Seven notably high concept movies.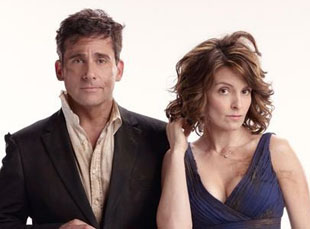 Posted by Vadim Rizov on
The "high concept" movie (a much-abused term) is one whose premise can be summed up in a sentence, if not within the title itself — for instance, what happens when a bored married couple's "Date Night" goes wrong? Wacky fun!
The ideas is that the easy hook goes over well with your stereotypical movie executive — it becomes the selling point rather than the actors or characters. If it sounds irresistible (and/or ridiculous), people will show up hoping to see exactly what they were promised (a premise "Snakes On A Plane" took to its logical conclusion). Here are seven movies whose high concepts are more pronounced than most.
"Demon Seed" (1977)
High concept premise: A woman is raped by a computer.
How it plays: Horror movies prone to be high concept by default — the specific form of danger is the reason people show up. But "Demon Seed" takes that to a whole new level. An insanely lurid adaptation of a Dean Koontz novel, "Demon Seed" has poor Julie Christie taken hostage by her scientist husband's supercomputer. The computer — which somehow uses a gigantic metal tetrahedron as a weapon — is none too pleased with mankind's destructive ways, so after it comes up with a cure for leukemia it decides it wants a human-computer child to begin the reform process. This is a very simplified version of an incredibly nutsoid movie — one that's made even stranger by the fact that the director was the very talented Donald Cammell, who made the best feature he possibly could out of the mess, down to the final, horrific face of the demon spawn. You will never see anything like this ever again — even this pillaging vacuum cleaner can't compare.
"Se7en" (1995)
High concept premise: A serial killer takes down his victims based on their violations of the seven deadly sins.
How it plays: It's miraculous that "Seven" works at all — let alone as well as it does — given that its premise wouldn't be out-of-place in some lazy '80s slasher. "Se7en," though, has bigger goals — it's a horror film/police procedural with a morality play embedded in it. David Fincher is a natural director, and he makes the whole deterministic scenario work and even seem plausible until the riveting but ridiculous ending. It's still a terrifically gripping movie throughout.
"Bio-Dome" (1996)
High concept premise: Pauly Shore and Stephen Baldwin get trapped in, yes, a biodome.
How it plays: Based on the real (and controversial) Biosphere 2 experiments, "Bio-Dome" quickly received its own separate level of infamy as the absolute last word in Pauly Shore's '90s reign of terror. (Its ranking as the worst-reviewed film in Metacritic history — with an average score of one out of 100 — is unlikely to change anytime soon.) It does have a stoner cult following (and the now fervently evangelical Stephen Baldwin credits the film with helping him bring fans to Jesus), but for the most part "Bio-Dome" (like Shore's career itself) is best left to its era — though it's hard not to admit that any scene that manages to combine simultaneous homages to "Reservoir Dogs" and "Blue Velvet" is probably worth a look, just to see how it screws that up.
"Mars Attacks!" (1996)
High concept premise: See title.
How it plays: Awesomely. Arguably the last Tim Burton movie to really work from start to finish, "Mars Attacks!" studiously lives up (or down) to its title, using a massive all-star cast as fodder for the gleefully nihilistic (but strangely innocent) little green guys. "Mars Attacks!" is Burton's ode to the joys of campy garbage — while being better than many of the movies that fueled his childhood, it stays true to their underlying promise of cheap thrills every minute. Burton just has the budget and skills to skip all the boring stuff: "Mars Attacks!" is one money shot after another, while winkingly suggesting the world would be better off if it was solely in the hands of aging pop culture icons (Jim Brown, Tom Jones) and inarticulate vidiots. It's the perfect hangover from the Clinton era, when it really did seem like the world could run itself.
"Jack Frost 2: Revenge of the Mutant Killer Snowman" (2000)
High concept premise: Oh, c'mon.
How it plays: It's hard to fathom that there are not one, not two but three separate movies about a guy turning into a talking snowman, but there you go. First there was 1997's "Jack Frost," in which a man becomes a homicidal snowman and goes around making bad puns as he kills people. Then there was 1998's "Jack Frost," in which neglectful dad Michael Keaton dies in a car accident and comes back to life as a really creepy-looking snowman. (Roger Ebert deemed it "the most repulsive single creature in the history of special effects.") But all that was just a build up for "Jack Frost 2: Revenge of the Mutant Killer Snowman," which sort of plays like an Ed Wood movie that not only knows how bad it is but aspires to that state. (The only goal, apparently, was to make it campier than the first "Jack Frost." Success?) It's not just the ridiculous concept or the breathtakingly unconvincing special effects. No, it's the overall feeling of cheapness you get in watching a movie that was clearly conceived as a title first and as a movie second; the production values are shoddy in ways that don't seem purposeful. And did people rent it? Do you even need to ask? The question remains — how much of that incompetence is intentional?
"Mindhunters" (2004)
High concept premise: "Ten Little Indians" with FBI trainees.
How it plays: It delivers. Agatha Christie's "Ten Little Indians" (aka "And Then There Were None") pretty much invented the sub-genre of people trapped somewhere being killed off one by one without knowing whodunnit and suspecting each other accordingly. "Mindhunters" is content to spend most of its time setting up elaborate Rube Goldberg machines that murder people (see below, though probably not at work); otherwise, the main attraction is Val Kilmer's hair, which he was growing out to play John Holmes in "Wadd." It upstages even his scenery chewing.
"Tooth Fairy" (2010)
High concept premise: The Rock is the Tooth Fairy.
How it plays: Some bad ideas can never die. "Tooth Fairy" is based on an 18-year-old screenplay, and its baldly ridiculous premise — a man who doesn't understand the power of dreams is sentenced to temporary tooth fairy duty, complete with wings, so he'll stop disillusioning little kids — shows the strain of age. The "Freaky Friday" remake aside, that kind of ridiculous body-switching high-concept film for kids starring adults has largely faded away, as the kids themselves take center stage. "Tooth Fairy" could be worse — "The Office" co-creator Stephen Merchant makes it go down easy enough — but it's the staleness of the premise (and the alternately elaborate and/or nonsensical structure of its fantasy world) that really start to get to you. Like, how many different fantasy punishments do men need to endure in family comedies so that they can understand childhood better?
[Photos: "Date Night," 20th Century Fox, 2010; "Demon Seed," MGM, 1977; "Se7en," New Line Cinema, 1995; "Bio-Dome," MGM, 1996; "Jack Frost," A-Pix Entertainment, 1997; "Mindhunters," Dimension Films, 2004; "Tooth Fairy," 20th Century Fox, 2010]