"Harry Brown," "The Duel" and "Ghost Bird"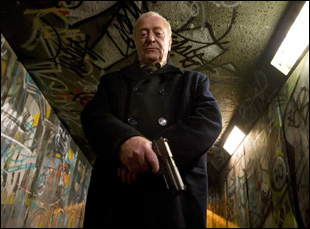 Posted by Bilge Ebiri on
Daniel Barber's "Harry Brown" will provoke justifiable comparisons to 2008's surprise hit "Gran Torino" — geezer with a past decides to clean his neighborhood of punks — but in some ways, it feels closer to that winter's other surprise hit "Taken" — likable actor kills legions of faceless hoods.
Michael Caine is the geezer in question — a former British soldier who was stationed in Northern Ireland, now widowed and living in a rundown council estate (the UK equivalent of a housing project) that's going to the dogs. Mild-mannered Harry minds his own business, preferring to spend time in his local pub playing chess with his friend Leonard (David Bradley), even as drug transactions and acts of senseless violence increasingly swirl around him. When Leonard is killed, Harry loses it, deciding to take justice into his own hands. And… well, he does.
This is pretty straightforward vigilante justice stuff — lean, mean, but also dispiritingly disposable. There are some nice touches — if you look closely, you might notice during a fleeting cemetery scene that Harry lost his daughter at a young age.
But they're undercut by more significant moments of craven obviousness — when Harry goes to the local drug dealer's door for the simple transaction of buying a gun, he is, for some reason, led into the comically deranged baddie's ghastly pot/heroin/techno/homemade-porn/nearly-dead-naked-junkie-sex-slave den. (I half expected a Rastafarian Gary Oldman to jump out from behind one of the cannabis bushes.)
All that said, I'm not sure there's a right way to do a movie like this. I could harp on screenwriter Gary Young and director Barber's refusal to give the young punks Harry battles any kind of humanity — but do we really want the maudlin "good-kid-almost-gone-bad" storyline of "Gran Torino"? I could take them to task for giving Harry a background fighting in Northern Ireland without addressing the loaded questions it raises about that war, but would some sob scene monologue about all the horrid things Harry had to do in his youth be any better? I could complain about the film's refusal to address the broader social or political context of crime among British youth — but would I be happier if the film suddenly detoured into excuses about The System or whatever?
The truth is that "Harry Brown"'s main problem is also its main asset: Caine is just too good and too real for material this nasty. He brings too much humanity and radiates too much intelligence to play a killing machine. There's a reason Clint Eastwood and Charles Bronson were making these kinds of films back when Caine was doing his Thinking Man's Spy bit in films like "The Holcroft Covenant" and "The Black Windmill." He commands the screen, to be sure — and while that makes "Harry Brown" occasionally quite compelling, it results in a fundamental disconnect.
The Georgian-Israeli director Dover Koshashvili directed one of 2001's strangest and most subtly electrifying films, "Late Marriage," about a weak-willed Israeli bachelor whose relationship with a divorced single mother wreaked havoc in his old-fashioned family. You wouldn't immediately think of him as the ideal director for "Anton Chekhov's The Duel," a film based on the dramatist/storyteller's 1891 novella.
True, Chekhov also specialized in generally unlikable protagonists — a curious feature that lent his comedies of manners a certain Olympian perspective. But one needs some warmth and humor to pull him off; as with Kafka, too many adaptations have been hamstrung by their inability to tap into the inherent humor of the source material. And "Late Marriage," though billed as a comedy, was a strangely unforgiving piece of work.