"The Good, the Bad, the Weird," "The Losers" and "Boogie Woogie"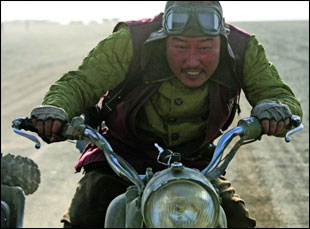 Posted by Bilge Ebiri on
For better or worse, we live in the age of the action homage, in which popular filmmakers clutch their self-awareness like a talisman against their fears of the unknown — whether manifested through the sublime referentiality of "Inglourious Basterds" or the neurotic mimicry of "Watchmen." What to make, then, of a film like Kim Ji-woon's "The Good, the Bad, the Weird," which initially seems disastrously ill-conceived but quickly develops an unholy energy all its own? You kind of want to hate it — do we really need another goddamned love letter to Spaghetti Westerns? — but dear lord, how it moves.
It helps, of course, that Kim isn't really interested in making a Western so much as mixing together a bunch of action styles and seeing what comes out. The film, set in 1940s Manchuria, gives us a trio of Korean badasses in search of hidden treasure, each of them seemingly from a different movie — a goofy, motorcycle-riding thief ("The Host"'s Song Kang-ho, "the weird"), a stoic, cowboy-hatted bounty hunter (Jung Woo-sung, "the good") and a deranged thug dubbed "the Fingerchopper" (Lee Byung-hun, duh, "the bad"). Not far behind them are Japanese occupying forces and a herd of mounted Mongolian bandits. The overall effect is something closer to what might happen if you crossbred the unhinged aesthetic of a "Mad Max" film with one of those eager-to-please, star-studded 1960s zany adventure comedies, like "It's a Mad Mad Mad Mad World" or "The Great Race."
It's an unwieldy concept, to be sure, but for all its characters and subplots, "The Good, the Bad, the Weird" has an infectious briskness. Kim blocks, shoots and cuts action with both uncommon speed and clarity — two virtues that usually work in opposition, but seem to go together here. When the film works — and it works best during an early train robbery sequence and a climactic, comically endless chase through the desert — it's like a little cinematic perpetual motion machine. You don't want it to stop because when it does, you'll have to focus on that derivative story and on those paper-thin characters. Luckily, it doesn't stop very often.
There's a germ of an idea here, too, beyond Kim's desire to give us a giddy rollercoaster ride (which, let me add again, he does). That aforementioned genre dislocation has purpose: The director posits a world in which national loyalties are fluid, and where nobody seems to know what they're fighting for. Spaghetti Westerns did that too, but their audiences didn't need to be told that what they were watching was their own reflection — directors like Sergio Leone and Sergio Corbucci understood that the underlying nihilism of their characters was a given. Kim acts like he just discovered cynicism — and, unlike with his delirious action sequences, he fails to make it his own.
I know virtually nothing about the Vertigo comic that "The Losers" is based on, so I can't speak to how Sylvain White's film adheres to the "mythology" (ugh) of the original — which, as I understand, was itself a reboot of an earlier DC comic set during WWII. Nor can I really speak to whether White (whose previous film was the step dancing drama "Stomp the Yard") has brought his own style to the film or just pulled a Zack Snyder and transposed the comic's aesthetic to the screen. But he, along with writers Peter Berg and James Vanderbilt, have done one thing quite effectively, which is to capture that unchecked-id quality that draws teenage boys to comic books in the first place. "The Losers" may not be a particularly good film, but it is unapologetic in its candy-colored visuals, deployment of lame wisecracks and drool-worthy shots of Zoe Saldana writhing in her underwear while bullets whiz all about her. It's almost endearing. Almost.
But most of the time, it's annoying. The Losers are a ragtag team of wisecracking CIA black-ops guys who find themselves betrayed by an enigmatic superior named Max (who should probably be a disembodied voice but quickly turns out to be Jason Patric). One blown-up helicopter (and 25 dead children!) later, our guys decide to let the world think they've been terminated, opting to hide out in a small Bolivian town whiling away the hours getting drunk and watching cockfights. Enter slinky, slow-motion-y Aisha (Saldana), a mysterious hottie who enlists them to help her destroy Max.