Review: "Freetime Machos," a Finnish rugby bromance.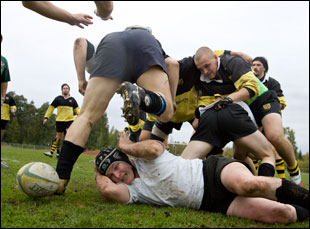 Posted by Alison Willmore on
Reviewed at the 2010 Tribeca Film Festival.
A small, agreeable documentary with an awkwardly not-quite-in-English title, "Freetime Machos" tries to position itself as a sort of Finnish nonfiction Apatow-style bromance about guys whose slightly squishy outsides hide very squishy hearts. It's not terribly successful on that front, but I'm not sure it needs to be.
Director Mika Ronkainen starts his film off with a voiceover explaining that in the northern town of Oulu, men are supposed to be men — stoic, stoic men, who don't like to let on that they feel pain of either the physical or emotional variety. For the group of guys he follows, playing amateur rugby is an escape — physically, but also mentally, as companionship, social time at the bar or hanging out in the sauna with a few beers seems to be just as important to everyone as actually playing.
The team happens to be the most northerly in the world, as well as not very good — over the course of their season, they struggle to avoid ending up at the bottom of their league and getting bumped down to a lower division. "Freelance Machos" zooms in on the friendship between two of the players in particular: Mikko, a family man struggling to support four children, and Matti, 22 and a lovable goof, who sincerely love each other in the way that only two gruff Nordic men can. The team also includes a novelist, a girl (not allowed, per the organization's rules, to play during the games), the British coach and someone who eventually comes out as gay to Matti, who's the kind of guy you could see being uncomfortable with such a revelation.
The team's mascot is a blow-up doll, and there are one or two discussions about porn and picking up girls, but the guys are so solid, so fundamentally well-behaved that they can barely put up a veneer of bad boy behavior — when Ana, the girl, a Spanish university student, joins up, they're so courteous with her that she remarks, when one gives her a hug as he sees her off to the airport, "at least one of the guys touched me."
While the hijinks fall flat, the sense of melancholy hanging over everything, going beyond just the desire for friendship, endures far beyond the credits. The layoffs at Nokia, a major employer in the city and a current or former one of at least two of the team members, are a small plot thread throughout "Freetime Machos," and they represent more of a threat to the sense of self of its men than having to clean an apartment or make up with their girlfriends.
"Freetime Machos" is currently without distribution.