"Five Easy Pieces," still uneasy after all these years.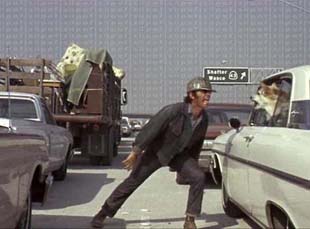 Posted by Vadim Rizov on
Jack Nicholson turned 73 yesterday, making the timing of the week-long Los Angeles revival of "Five Easy Pieces" that starts today all the more appropriate. We tend to think of Nicholson's archetypal run from "Rider" and "Pieces" to "Carnal Knowledge," "The Last Detail," "Chinatown" and "The Passenger," while omitting the more inconvenient links in between. (He made "A Safe Place" in 1971, with Henry Jaglom, co-starring Orson Welles; there were shouting matches at the New York Film Festival screenings.)
"Five Easy Pieces" is remembered as part of the angry-young-man changing-of-the-guard movies, as well as the start of a promising directorial career that lapsed into indulgence and failure, with Bob Rafelson slotted alongside William Friedkin, Michael Cimino and Peter Bogdanovich as Lessons In Hubris. Seen freshly 40 years on, the film has aged unnervingly well, mostly because it's not about anything particularly 1970-centric.
Instead, "Five Easy Pieces" circles around some thorny situations whose specifics haven't changed much in the last forty years — class barriers, upper-class types slumming and hiding out in the lower classes, men treating women badly and getting away with it (see also "Greenberg," even though the themes are expressed in wildly different ways).
Unlike many landmark films of the time, "Five Easy Pieces"' editing is restrained and not particularly worried about fashion. And it addresses, finally, male self-loathing in an indelible rejection from Nicholson's crush Catherine: "If a person has no love for himself, no respect for himself, no love of his friends, family, work, something — how can he ask for love in return?" (Just once, Zooey Deschanel should've worked up that much grit.)
What makes "Five Easy Pieces" a monument, finally, is its portrait of male self-loathing as a phenomenon in and of itself, something that can happen to anyone. He's not tortured by the '50s like Don Draper or traumatized by World War II like "The Man In The Grey Flannel Suit"; he's his own sick, sad creation, and that can't be explained away through a social context — not entirely anyway.
"Five Easy Pieces" is a kind of perfect antidote to "Garden State" because, by film's end, even Bobby Dupea himself is sick of his own bullshit. He's the product of a soft upbringing and a pre-Vietnam guy; his trauma, whatever it is, is an indulgence. In other word: he's a completely contemporary guy.
[Photos: "Five Easy Pieces," Sony, 1970]