When a movie is "fine for what it is."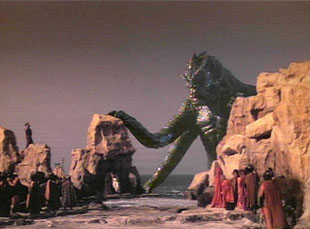 Posted by Vadim Rizov on
It's April, and you know what that means — it's summer blockbuster time! At least it sure feels like it, with the unleashing of the Kraken, the impending "Kick-Ass," "The Losers" and so on; the launch of summer proper in May is a thing of the past. And with blockbuster season comes a particular critical responsibility: the need to defend every middling escapist film as "fine for what it is," with the implication that anyone who can deny that kind of middle-grade fun is a self-deluding snob.
Roger Ebert, per usual, laid out some perfectly reasonable criteria for reviews: "If a director is clearly trying to make a particular kind of movie, and his audiences are looking for a particular kind of movie, part of my job is judging how close he came to achieving his purpose." But! "That doesn't necessarily mean I'd give four stars to the best possible chainsaw movie." In other words, it's not enough to see if a movie achieves its goals, it's important to figure out if those goals were worthwhile to begin with (something I believe he's said exactly, but can't find online at the moment).
That's not enough for some people. So, about that Kraken. In these trying political times, it's nice to know that two sites as dissimilar as Cinematical and Big Hollywood can find something to agree on. "Nostalgia is a strange and powerful thing," writes Scott Weinberg at the former. Don't let nostalgia for the original "Clash of the Titans" stand in your way, he implores. The "slightly bland" Sam Worthington and "pacing issues in Act I," the remake is, on its own terms, "a perfectly mindless, bombastic, colorful, and enjoyable piece of matinee-style popcorn entertainment."
Big Hollywood's John Nolte is more succinct: "What we bring to the movies plays a big role in what we get from the movies (which is why critics are absolutely useless)." Sure.
There's something to be said for a critic laying it all out there and letting you know exactly what they don't mind putting up with. But the defensiveness here bothers me, the idea that there's something wrong with not enjoying mediocrity — especially in, say, a movie that's essentially dramatic filler punctuated with effects showcases. (Since when did blockbusters structure themselves like cult movies?) There used to be a place for this kind of thing some 15 years ago, when the fanboy sites were starting up and mainstream film writing was dominated by a self-congratulatory tone that celebrated "well-made," "serious" films. But now that the fanboys have won, it's time to knock it off. Otherwise, time to celebrate the chainsaw movies.
[Photo: "Clash of the Titans," Warner Home Video, 1981; "Clash of the Titans," Warner Bros., 2010]