Exclusive! Video premiere: The Antlers' "Sylvia" + free EP!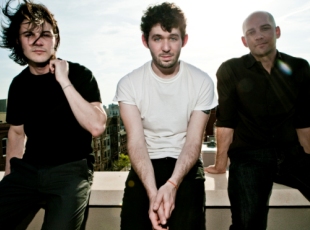 Posted by Brandon Kim on
Before Peter Silberman gathered a band around him, he spent a lot of time in self-imposed isolation upon moving to Manhattan of all places. A sad tale of regret and love that culminated, as they often do, in a passionate outburst in the bedroom – a series of recordings that eventually made up 2009's much acclaimed, Hospice.
[The Antlers. Darby Cicci, Peter Silberman and Michael Lerner]
Silberman's band, The Antlers, now a threesome have just finished a video for one of those tracks, called "Sylvia." Director Trey Hock explored the depths of the song and found a story about a tortured relationship in sepia there. "I tried to think of examples of truly frustrating or tragic unions," he said of conceiving the narrative structure of the video. "I felt that an argument with someone who was not physically there, would be the pinnacle of this type of torment. A restricted color palette and almost uncomfortably static shots kept coming to mind."
"After talking with the band, I knew that I wanted to explore the style of the silent era of the 1920s," he added. Some of his inspiration came from D.W. Griffith's 1919 film "Broken Blossoms" (about brutal boxer, his young daughter, and the Chinese immigrant who falls in love with her but that's another story).
Don't forget, drop in your email to this widget below and get the New York Hospitals EP free!