Dancing on the erotic thriller's grave.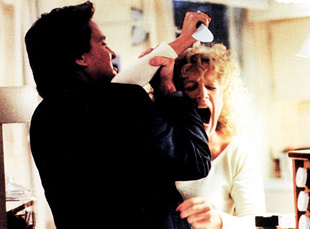 Posted by Vadim Rizov on
See what I did there? I put the word "erotic" in the headline, exciting the diligent robots of Google to no end. On the internet, sex still sells — but if you're at work, what's even better than sex is at least reading about sex, because it's technically not a violation and you can still get mildly titillating details. The folks at The Wrap, who understand this well, have cooked up a list of ten "erotic duds" for your slideshow enjoyment. The implicit premise is that the erotic thriller is dead, a '90s punchline no longer in flux.
It's true that the number of movies that could be labeled "erotic thrillers" have died down. In Tatiana Siegel's benchmark article on the subject in the Hollywood Reporter (from five years ago, which tells you something right there), everything from American puritanism to the internet is blamed for the genre's decline. (The then-upcoming "The Number 23" is cited as a rare new entry in the genre. There's little less arousing to anyone, I'd imagine, than Jim Carrey ranting about numbers.)
But how valid are those explanations? Yes, we're conflicted and confused about how we talk about and respond to sex in public, but that's true of, like, global warming. And the rise of internet porn has siphoned off the people who would watch any old direct-to-video sleaze for a few minutes of soft-core action.
But if porn is huge (thereby taking care of the sex/nudity question), perhaps a better question might be what's specifically enticing about the combination of sex and danger — or why it once was and now isn't. If "Fatal Attraction" touched a nerve largely watered down by subsequent copycats, what's changed?
The answer's quite possibly sex tapes. Forget rabbits being boiled: there's nothing quite like the endlessly repeatable spectacle of some celebrity or other doing damage control to their image/marriage in the wake of evidence not just of a sex life/adultery, but of actually being able to watch the evidence itself. (I'm not even going to say what's on the internet: it's being over-analyzed enough as we speak.
This is something for which, I suppose, we must all thank Pam Anderson and her spiritual descendants. But really, what would be more compelling — watching someone in an "erotic thriller," or the real-world equivalent? The answer isn't a nice one, but it's kind of obvious.
Incidentally, the best movie in this genre recently is clearly 2002's Brian De Palma's "Femme Fatale." Rebecca Romijn-Stamos lesbian make-out in ten minutes or your money back — but also a "Vertigo" tribute and treatise on Catholic redemption symbolism. It's one of the few that got the self-mocking titillation/non-sexual setpiece balance exactly right.
[Photos: "Fatal Attraction," Paramount, 1987; "Femme Fatale," Warner Bros., 2002]