It's Ebert vs. Knowles in the battle of "Kick-Ass."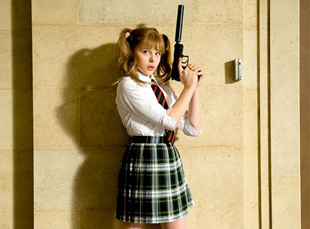 Posted by Vadim Rizov on
Somewhere in between Roger Ebert's pan of "Kick-Ass" and arch-geek-number-one Harry Knowles' rebuttal lies something like the truth.
For Ebert, the big concern isn't the possible sexualization of a little girl (which is a baseless argument; the movie doesn't go there at all, and to his credit he doesn't worry about it) so much as the very real possibility that six-year-olds taken by their lazy parents to this insanely violent movie will attempt to imitate it with deadly consequences. Knowles' response has something to do with how comic books train the youth of today to think independently and that the kids are desensitized by video games and are foul-mouthed, so nothing will surprise them.
Let's talk about those video games for a second. Towards the end of the film [mild SPOILER], Hit-Girl advances upon a collection of bad guys and prepares to let the fire power fly. The movie then briefly becomes a first-person shooter a la "Doom" (the only feature aside from "House of the Dead" to try to translate that video game aesthetic to the screen so far), thereby implicitly acknowledging the multiple lines of things-that-are-inappropriate-for-but-wildly-popular-with-kids being crossed.
It's part of the movie's agenda of baiting every form of media that can show kids inappropriate things (YouTube comes up a lot). Everything reprehensible done by a child or teenager (Online porn! Back-alley sex! Bad language!) is tied to something most children already have ready access to. "Kick-Ass" lights the bomb and tries to simultaneously defuse it by reminding us that it's just showing us kids doing things they can access already.
This isn't the most responsible tack to take. If you're inclined to already worry about the coarsening of American youth, "Kick-Ass" isn't going to help at all. There's sympathy to be had for both sides here — yes, this would've been culturally unacceptable 20 years ago (except as some kind of cultishly circulated underground VHS spectacular) and yes, worrying about the effect a movie has on children is old hat when the internet makes any depravity instantly accessible in ten seconds or your money back.
Sympathy for the angel or devil? Both — just because a movie aligns itself with things that are even worse and uncensorable doesn't let it off the hook, but it's impossible to imagine "Kick-Ass" warping more adolescent minds than, you know, underage viewings of "Fight Club."
[Photos: "Kick-Ass," Lions Gate Films, 2010]