As Gamers Get Older, There's a New Need for an Easy Button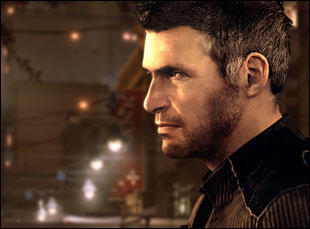 Posted by Evan Narcisse on
"Splinter Cell Conviction," the new stealth action title from Ubisoft, will be a hit. It's currently boasting a Metacritic score of 86 and, once the NPD Group's monthly video game sales charts hit in a few weeks, "Conviction"'s numbers should make it one of April's top-selling games.
Most critics agree that it's a good (verging on great) game. But the reason SCC will be greeted warmly on hundreds of thousands of consoles isn't only due to the game's new mechanics like Mark & Execute and Last Known Position. Sam Fisher, the black ops agent who's been the star of the Tom Clancy-created stealth series, is getting reinvented as he's getting older.
That balancing act is something the players buying Fisher's game are having to figure out, too. The average age of the first-wave hardcore gamer — the ones who've made successive generations of video game hardware and software in a multi-billion dollar business — falls somewhere in the early to mid-30s now. And their lives are changing. What "Splinter Cell" does in an uncanny subtextual fashion is mirror those changes in both plot and game design.
In the game's opening levels, Sam's motivation is to track down the men responsible for his daughter's death, a narrative that resonates because lots of the hardcore players are hitting the age when they're starting to plan families, if they don't already have kids. The loss of a child gets used as a story beat often in adventure fiction, but a big chunk of the game's audience is reaching the point in their own lives where that may hit home a little harder.
Then, as "Conviction" goes on, Sam uncovers a conspiracy to assassinate the Commander-In-Chief. It's a been-there plot device, but one that echoes effectively in these days where Tea Party antics grab headlines and Facebook has pages where people pray for the President to die. Where it would've remained the province of make-believe in past years, the meme of political dissatisfaction turning into open revolt cuts a little deeper nowadays.
It's not just plot elements that ping the thirtysomething audience, either. Those game mechanics mentioned above make "Conviction" less rigorous than its "Splinter Cell" forebears. Mark & Execute lets you tag multiple bad guys and dispatch them quickly with the press of a button, while Last Known Position generates a virtual decoy for enemies to shoot at, letting you skulk around them.
These features have generated a bit of disdain from some who say they make "Conviction" a too-easy installment in what was once a notoriously hard series. But, aside from being clever and well-implemented, they're just what a time-crunched new parent needs to balance the challenge of the game. The mechanics give players an older, warier Sam Fisher who's finding his footing in a new gameworld, just like the older, warier person controlling him may be navigating new financial or familial circumstances.
The common theme here, for Fisher and gamer, is that we have to change how we play as we get older. For most first-wave hardcore gamers, gone are the days of Mountain Dew-fueled all-night sessions. That Japanese RPG with more than 60 hours of playtime? Just not an option anymore, with a wife and/or kids. Yet, in defiance of all that, the faithful still want to squeeze some button-mashing into their lives. The tweaks in "Splinter Cell" create a way to scratch that itch without necessarily having to play the same thing over and over in frustration.
Still, Sam Fisher's lethal brand of play isn't one you can share with the wife and kids. For that, we still have Nintendo's iconic Mario.