Eight memorably disgusting cinematic meals.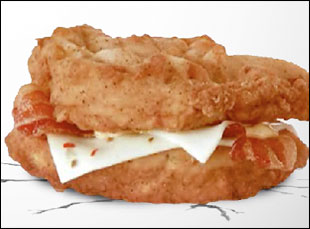 Posted by Vadim Rizov on
The most important event of last week was clearly the introduction of KFC's Double Down, a sandwich that replaces the bread with chicken patties, to the mass public. I'm not going to try it, because I'm terrified that it could dehydrate me for the rest of the day (1380 mg of sodium!), but it's certainly a food milestone of some kind.
In honor of the culinary Kraken being released upon the world, here are eight memorable cinematic meals, for better or worse.
Actually, just worse.
"eXistenZ" (1999)
Everything in David Cronenberg's world is potentially an orifice, and with food that goes double — think of Brundlefly explaining his diet or the diner where Viggo Mortensen works in "A History of Violence," just waiting to serve up some cracked bones alongside the coffee. Enter the "gristle gun," a hypnotically vile weapon made out of the ingredients of a not-quite-typical Chinatown lunch. To be honest, it seems like Jude Law's whining about nothing, but there really is something fetus-y looking on the plate, which could undo anyone's appetite.
"Edward Scissorhands" (1990)
There's a lot going on in "Edward Scissorhands" (aside from the leftover teenage self-loathing), but one of the nicer strands involves Tim Burton's fascination with all things suburban. In the otherwise unilluminating DVD commentary track, he notes in passing his love of the kind of photos taken at Sears, with a smiling face posed against a formless blue background. Another aspect of suburbia that pops up is the "Ambrosia Salad" that Joyce (Kathy Baker) brings to the backyard barbeque, the weirdly pink fruit concoction she spoon-feeds hapless young Edward in hyper-sexualized style in front of all the neighbors. It looks nothing like what Wikipedia claims it should.
"Indiana Jones and the Temple of Doom" (1984)
The most problematic sequel of the '80s arrived on a head of bad publicity, with levels of cartoonish gore and violence that led to the creation of the PG-13 rating (alongside the Spielberg-produced "Gremlins"; 1984 was a good year for Spielberg to destroy the fondness the parents of American felt for him after "E.T."). Alongside complaints about the rampant stereotyping of India, some people were definitely not happy about Indy sitting down to enjoy a traditional Indian dinner of… monkey brains, live snakes and eyeball soup. Later, though, he has to drink blood (or at least the "Blood of Kali"), so clearly he was just getting started.
"Meat Love" (1989)
Jan Svankmajer's career as a surrealist animator has often involved a fascination/revulsion with food — take 2000's "Little Otik," in which a child carved out of a log begins to display "Little Shop of Horrors" levels of hunger. You can speculate that it's because Svankmajer, who grew up in Communist Czechoslovakia, was a member of a society where food was anything but disposable and thoughtless, but that still wouldn't explain his queasy fascination with the tactility and weird feeling of meat against your fingers, as seen in the short below, in which two cutlets conduct a romance.
"Hannibal" (2001)
Before "Hannibal," we were mostly asked to envision Hannibal Lecter's cannibalistic escapades for ourselves. When Ridley Scott took on the franchise, though, he went all out, culminating in the infamous bit in which Lecter lobotomizes rude FBI agent Ray Liotta, cutting out a section of his brain, briefly pan-frying it, then feeding it back to him. It's really only marginally more sophisticated than, say, "Cannibal Holocaust" — the veneer of culture Scott lays on is less than convincing — but it's undeniably funny/gross.
"Oldboy" (2003)
After 15 years incarcerated by unknown people and forced to sit by helplessly while his wife is murdered and his daughter sent into foster care, Oh Dae-su (Choi Min-sik) is not in a good frame of mind. So he wanders into a restaurant, announces he wants to eat something alive, and chows down on a live octopus — something the actor, bravely, actually did. (Eating live octopus in Korea is not unheard of — that it's whole rather than chopped up is Park Chan-wook's special touch.) Later, Oh falls in love with a sushi chef, which seems strangely appropriate.
"Taxidermia," 2006
Surely, György Pálfi consciously set out to make the most disgusting film in history with "Taxidermia," a vigorous all-purpose assault of every revolting image you could possibly dig up — you have admire its sense of purpose. Palfi's broadly allegorical portrait of Hungarian life in the 20th century uses speed-eating and the fetishization of consumption for its own sake as the starting point of its middle segment, which has lots of vomiting, morbidly obese people and saliva-clogged mastication. This is not for the faint of heart.
"Drag Me To Hell" (2009)
"Drag Me To Hell" is more prototypically a "Sam Raimi movie" than "Spider-Man 3," but it has some echoes of that underappreciated flick. In "Spider-Man 3," everything stops for a few minutes so that Bruce Campbell can camp it up as a very '30s-style "French waiter," officious accent and all. in "Drag Me To Hell," the dinner awkwardness ante is upped when Alison Lohman meets boyfriend Justin Long's parents; a class-tension-ridden dinner (the parents don't like her homely cake) becomes more problematic when Lohman coughs up a fly. Unfortunately, this isn't the worst thing that'll happen to her in the movie.
[Photos: "eXistenZ," Dimension Films, 1999; "Edward Scissorhands," 20th Century Fox, 1990; "Indiana Jones and the Temple of Doom," Paramount, 1984; "Meat Love," Image Entertainment, 1989; "Hannibal," MGM, 2001; "Taxidermia," E1 Entertainment, 2006; "Drag Me To Hell," Universal, 2009]