Deer Tick, free track from The Black Dirt Sessions.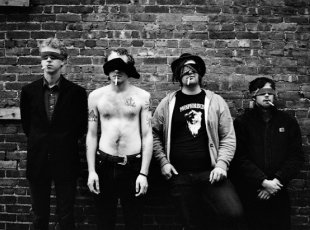 Posted by Brandon Kim on
Deer Tick blew up a bit last year when they released their second album, Born on Flag Day to praise such as "the country-rock breakthrough of the year." Then there was Brian Williams' BriTunes interview with them on msnbc, his very first of an ongoing web series with musicians. They talked about itunes a bit too much for me, but then, I'm a Luddite.
Recorded at Black Dirt Studios in dreamy upstate New York, the new The Black Dirt Sessions releases June 8, 2010 on Partisan. Singer John McCauley is fired up about the new material, "I'm much more excited about our new songs than anything else we've ever done. They've got more balls…" [Rolling Stone]
But you need not wait for a taste, here's the track "Twenty Miles" off the forthcoming record.
MP3: Twenty Miles by Deer Tick.
There is also a documentary about them shot during their Fall 2008 tour that should be making an appearance in 2010.