Death to the death of film criticism.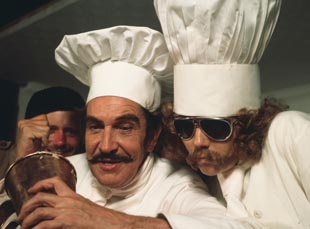 Posted by Vadim Rizov on
Over the past five years, if not more, we've been treated to an endless series of articles about the "death of film criticism," a phrase that has nothing to do with Vincent Price vengefully offing spiteful (theater) critics all the way back in 1973's "Theater of Blood." Price would find his cravings at least partially satisfied these days if he had an RSS feed.
Film critic firings started en masse in the summer of 2006 — the Salt Lake Tribune's Sean P. Means has been keeping a handy list of "the departed," now up to 65. With the cuts have come endless bloggage, journalism and general hand-wringing over the situation. Sight & Sound devoted an issue to it a few years ago, but even that didn't staunch the flood.
This year alone, the Chronicle of Higher Education deigned to weigh in, A.O. Scott expressed optimism in the New York Times, Big Hollywood explained it away as a byproduct of the culture wars, there was the Kevin Smith thing, and so on.
The latest salvo came from veteran media commenter Howard Kurtz, writing in the Washington Post — this, regrettably, the same day that two film critics got new prominent positions (Eric Kohn over at indieWIRE as their lead film critic, Stephanie Zacharek joining Movieline after exiting Salon), which might put a crimp in the argument.
No matter though: there's always room for another redundant article — this some five days after Ronald Bergen's take in the Guardian on the subject. It's enough to make you chuckle when Kurtz quotes Entertainment Weekly's founding editor Jeff Jarvis: "We can't afford repetition in journalism anymore." Apparently we can.
You would think all the arguments would have been beaten to death; all that's really missing is one of those videos where Hitler finds out about it. All of the arguments and hypotheses have been exhausted (victims of the decline of literacy, obsolescence in the age of online aggregation, people have finally caught on to the snobbishness and prefer to ask their neighbor Bob what he thought of "How To Train Your Dragon," etc.). The film critic has been made a stand-in for the crisis of print journalism, and is trotted out repeatedly and asked to stand still while they are poked, prodded and anatomized once more.
And it's become so boring that most critics are absolutely sick of it — I know I am, of the inevitable invocations of Anton Ego from "Ratatouille," discussions about Rotten Tomatoes, comparisons with restaurant reviewers, reminders of the power once wielded by Pauline Kael and/or Roger Ebert, wistful remembrances of the '60s and '70s (i.e., the decades When Film Really Mattered and the whole world thrilled to Altman and Fellini). And not only is it repetitive, speculative and prone to doom, it exacerbates the problem. Think people don't like critics now? Wait until the gossip and doom-laden chatter leaves the bars and saturates the internet.
This nuisance must cease. This isn't the gossip industry, where the nuances of whether or not someone is pregnant/divorced/married/coked-up/whatever can be parsed infinitely with the help of a few qualifiers and ambiguously worded rumors attributed to anonymous sources. This is film criticism — a hard enough task to make exciting to general readers in the first place, and one which invariably invites people to repeat themselves ad nauseam in the comments section (as if there weren't enough of those to go around). We won't solve the problem of how journalism is reshaping itself in with another 800 words so close to someone else's they're nearly plagiarism.
[Photos: "Theater of Blood," MGM/UA Home Entertainment, 1973: "Ratatouille," Disney, 2007]