Danny Huston Does the Boogie Woogie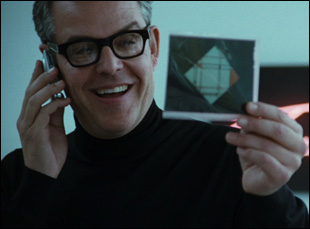 Posted by Aaron Hillis on
You might imagine there's a lot to live up to in a showbiz career when your half-sister, father and grandfather have each won at least one Academy Award, but one peek at Danny Huston's acting résumé ("The Proposition," "Birth," "The Aviator," "Children of Men") illustrates he's primed to take over the family business. (And for those wondering, the aforementioned relatives are Angelica, John and Walter.)
Armed with his sharp ear for dialects and a bigger-than-life screen presence, Huston commands the room in director Duncan Ward's star-studded "Boogie Woogie," an art-world satire adapted by Danny Moynihan from his own novel. Huston stars as London gallery kingpin Art Spindle, whose over-the-top laughter infects several storylines involving rabid collectors, opportunistic assistants, oversexed conceptual artists and the titular Mondrian painting, prized among the scenesters. Sipping on Arnold Palmers in the lobby of Manhattan's Bowery Hotel, Huston and I discussed Art — both with a capital "A" and the lowercase kind — and filmmaking advice given to him by his legendary pop.
Even with a stellar cast that includes Stellan Skarsgård, Alan Cumming and Amanda Seyfried, your performance is the ensemble's most comically mannered. How did you develop him?
First is the laugh. That was very much written: H-A, H-A, H-A. It was something I saw on the page that could potentially trip me up, which I had to overcome. I found this laugh, which is, as you say, close to being pantomime. [laughs] Second were these Jay Jopling glasses, which are a signature. Combined with his avid appetite for art, you're dealing with three broad strokes that define the character. So I tried to give him some humanity, but it is a little bit of a masquerade. He does, in a way, hide behind these characteristics, but underneath is a man who truly loves art. It's not something that he's doing for greed alone. He has a keen sense of what is beautiful, a taste that others rely on, but he can probably see further than that. That's what makes him buoyant. [laughs]
How would you describe your own taste for art?
Well, I went to art school. I resisted the film business as long as I could, because of the big circus act and the amount of money that it costs to make films — I saw my father suffer through that. I loved painting and drawing for many reasons. One of them was that all it really required was me, a pencil and a pad. It was something I was passionate about, and still am. But then I went to these gallery openings, drank too much warm white wine, and realized that there was just as much bullshit involved as in the film business. I finally relented and went to film school.
I was around during the Tracey Emin times, and I know Damien Hirst, so I understand that scene. Danny [Moynihan's] book was originally set in New York and the script translated it to London, so I thought it possibly gave a fresher look because the New York scene had been so investigated, opened up with a scalpel, and prodded to just about every area. Danny Moynihan and Duncan Ward both live in London, so it hopefully had a genuine quality, even though it is a satire.
But to answer your original question, I like anything where I see vigor and life, and where I feel there's something that I connect with, that's speaking to me in whatever form may come.
Why is the ridiculousness of modern art and its surrounding scene still such a ripe target since, as you say, it has already been done from so many angles?
I suppose, primarily, it's the amount of money spent. Want those butterflies or dots that Damien Hirst produces so eloquently — you better have a couple million to spare. Especially in this day and age, it immediately makes you reevaluate what it all means. The status of owning a piece like this is, at times, comparable to the grotesque. [laughs] I don't think it's difficult to observe it with humor, but also a certain amount of horror.
Having said that, what's been invested in producing these works as far as where the artist has come from and how he's got there is also what you're buying. There's the famous Tracey Emin bed, which has condoms and whiskey bottles and stains. It's certainly something that, if not one's mother, one's grandmother would immediately want to get out of the house and start to tidy up. When you start to observe these pieces with an educated eye and understand what these works mean, then it opens up a whole other world, not one to ridicule. There's a point where art is not subjective, and my example for that is Picasso. If you don't like Picasso, that's your problem. [laughs]