Have the movies gotten more conservative?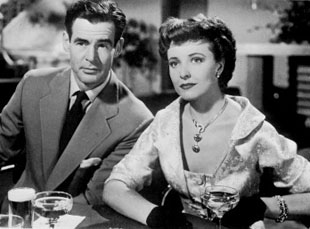 Posted by Vadim Rizov on
As they've done for years, the Christian Film & Television Commission — the brainchild of Dr. Ted Baehr, whose Movieguide reviews movies separately for quality and "acceptability" from a "Biblical perspective" — has issued a report claiming to correlate box office success with "conservative, morally uplifting, patriotic movies and movies with strong Pro-American, pro-capitalist, and anti-socialist content."
That Baehr's organization still uses language like "anti-socialist content" — as if it were the '50s and we were about to revive the likes of "I Married A Communist" — is charmingly ridiculous. As is some of its data: the release points out that "Avatar," "Creation" and "Land of the Lost" had an average gross far lower than that of "I Can Do Bad All by Myself," "The Blind Side," "A Christmas Carol" and something called "The Cross" — technically true, but meaningless. (">The trailer for "The Cross" is worth watching — it's like an incoherent religious take on "We Didn't Start The Fire.")
But could there actually be something to the organization's claims that mainstream success correlates with family-friendly fare with unexceptional (if any) political views? The answer is probably yes, with some major caveats. Even as the final barriers on what can be shown have disintegrated, the inclination to go there — to indulge in hyper-violence, graphic sex, or such — is rarely exercised in the mainstream.
You could consider this a reaction to the breakthroughs of the '70s, along the lines of how Jessica Grose speculates in Slate that the Millennials look down on casual sex and promiscuity because they're a "corrective generation" who saw an unpleasant straight line from '60s sexual lib to the national embarrassment that was the Clinton-Lewinsky affair.
You could also argue that movies are timid about playing with any kind of fire because it's easier to hit multiple demographics when you smooth out anything that could alienate anyone. It'd be even simpler to note that many of the groundbreaking movies commonly cited as Hollywood's '70s peaks didn't make much money — hence, there's no compelling reason to make more of them. But that still wouldn't explain the conspicuous sexlessness of so many American indie films that don't have to worry about MPAA ratings, or why so many overtly liberal films are didactic and terrible.
The good Dr. Baehr has, in his own odd way, a point. Despite blockbuster anomalies indicating a desire for more violence ("300"), raunch ("The Hangover") or generally non-pious behavior that wouldn't survive on basic cable uncut, American filmmaking as a whole has increasingly shied away from sex and drugs in the last 30 years. There are films from the '70s that have things on screen that feel more pungent than anything we have now. The '70s had "All That Jazz"; we had to settle for "Nine."
[Photos: "I Married A Communist," RKO Radio Pictures, 1949; "All That Jazz," 20th Century Fox, 1979]